Interest

Pachinko Company Sells Creativity With Anime Video

posted on by Jennifer Sherman
The pachinko and pachinko slot machine maker Sanyo Bussan wants to draw upon ingenuity in its business to entertain gamblers. The company posted the "Chizu no Nai Bōken" (Adventure Without a Map) anime video on Friday to explain its goals. Sanyo is streaming short and long versions of the video, which features the theme song "Kimo Monogatari" (Your Story) performed by Miwako Yamane.
The video centers on a woman named Miki and a man named Kazuki, who are both struggling at their separate jobs. Miki's bakery isn't getting business, and there is something missing from her desserts. Kazuki is working on a report related to curry for his company, but a coworker tells him he has the wrong approach to the project. After following his coworker around to learn his secret, Kazuki joins his coworker to go to a pachinko parlor and sushi shop. Meanwhile Miki and her friend also travel around the city to a fashion show, the same pachinko parlor, and a restaurant.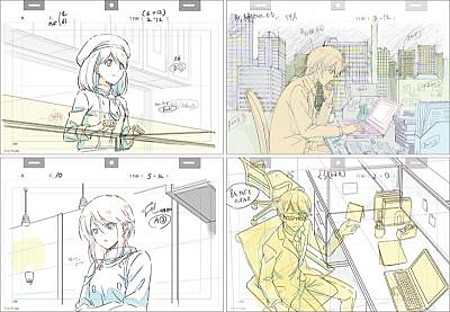 After talking with his coworker, Kazuki remembers drawing a red sky as a child and not worrying that he was different from other people. Miki's friend tells her that people have to be brave to come up with original ideas. Miki then remembers a time when she watched her father shoveling snow as a child. At that time, her father told her that people have to do bothersome things in order to persevere through the struggle and accomplish something.
Miki experiments with different recipes, and Kazuki does field research. After channeling their creativity and originality, they are both able to succeed in their professions.
Sanyo's website and the text at the end of the video describe the project's meaning:
Creating new things is not easy. It's something with no guideposts, and it requires bravery. But without that effort, there is no future when the world has lost that diversity. We at Sanyo believe that an original sparkle that dwells in newness becomes one step that opens up possibilities toward the future. Without abandoning the pursuit of originality, we continue to strive for fun with value.
Anime or game characters often feature in pachinko and pachinko slot machines. Anime that have inspired their own pachinko games include Gantz, The Melancholy of Haruhi Suzumiya, Code Geass, Ranma 1/2, Speed Racer, and The Rose of Versailles.
---