Interest

Madoka Magica's Gekidan Inu Curry Illustrates New Utena Album

posted on by Lynzee Loveridge
A combination of two giant magical franchises has lead to one very distinct album cover. Gekidan Inu Curry, the mind behind Madoka Magica's symbolic labyrinths unleashed their unique aesthetic for the Revolutionary Girl Utena Barbara Waisei-ko Mokushiroku: Arsenothelus Zettai Fukkatsu Hikari to Orpheus Zettai Meifu Yami compilation CD. The album collects all of composer J.A. Caesar's equally symbolic dueling tracks from the anime series. The cover depicts Utena as a centaur carrying a thorny spear among an avalanche of books. In the distance is a dragon encircling an impenetrably high castle. Riding with her is a feminine Napoleon wrapped in nothing but a red cape. The Napolean character is an obvious reference to the famous 19th century portrait Napoleon Crossing the Alps by Jacques-Louis David.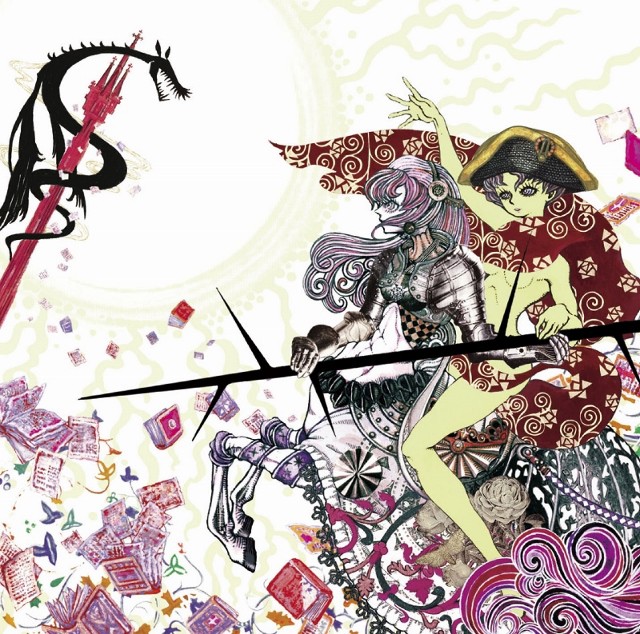 The album cover is based on an original sketch by Utena director Kunihiko Ikuhara.
The album collects all 14 tracks, including the full version of "Absolute Destiny: Apocalypse (Zettai Unmei Mokushiroku)," for the first time and is slated for release on June 21. Customers that order the CD from Disk Union will get a bonus three-track CD. The bonus CD includes the track "Hishō no Mai = Wata wa Totomi Mugen Manjin" a choral song that was not used and has not previously been released to the public.
[Via DiskUnion
Painting via Wikimedia Commons [Public domain]]
---