Interest

Skin Clinic Accidentally Adopts Resident Evil's Umbrella Corp. Logo

posted on by Lynzee Loveridge
In one of the most unfortunate cases of logo design, the Medcare Skin Centre in Ho Chi Minh City, Vietnam found itself attraction attention across the Internet, and not for the clinic's promise of patient satisfaction. The clinic's logo is very familiar to anyone who picked up a copy of the Resident Evil (Biohazard) video game series in the last 20 years or sat down to watch one of the live-action films.
The logo is none other than that of the Umbrella Corporation, the shifty company responsible for producing the T-Virus and other biological weapons that cause the zombie outbreak in Raccoon City. The logo can be seen across the Medcare Skin Centre's website, looming ominously in the background while doctors and nurses perform treatments. It's everywhere, to the point that website VideoGamer speculated that the whole thing was a viral marketing campaign by Capcom. GeekCulture also confirmed that the clinic's logo use is real, and not clever edits circulating around the internet.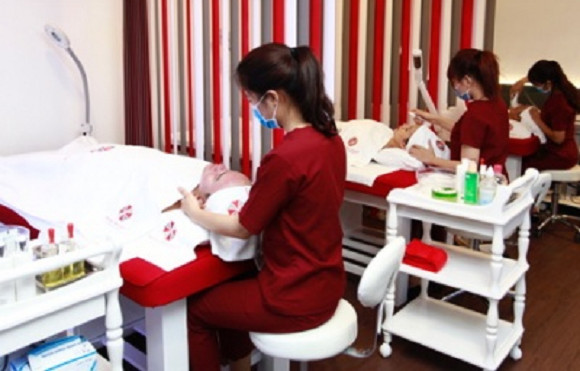 The truth of the matter is that Medcare Skin Centre are the victims of either an intentional troll or a lazy graphic designer. The company outsourced its logo design and presumably paid someone who in turn played a pretty bad joke on their employers.
Medcare Skin Centre responded by taking down some of its PR photos and issued a statement in both English and Vietnamese on Facebook.
NOTICE
Ho Chi Minh City - Jun, 5th, 2017
Dear Clients and Partners of Medcare Skin Centre and others of concern;
In the last few days, we have received feedback from the media and community that our logo resembles that of a fictional corporation (Umbrella Corporation) in the movie and game Resident Evil. We are very surprised to receive such feedback from the community.
We are very sorry the situation has occurred and is working internally to find the best solution quickly. Our team is highly specialized in taking care of skin conditions for our clients and logo design is completely out of our specialty and was consulted and completed for us by a hired third-party. We understand the urgency of the situation; and is working to quickly to provide appropriate answer to our clients, partners, community and to the movie and game producers and copyright holders of the artwork. We hope for your understanding that the situation is not an intentional infringement of copyright by Medcare Skin Centre.
We will continually update our progress on the website and social media presence. In the meantime, we will be monitoring continual feedback from the community in this email should you have any sharing with Medcare Skin Centre: [email protected]
Once again, we are very sorry and look forward to your understanding and support.
Sincerely,
Medcare Skin Centre
Here's hoping the unintentional stunt only attracts more business to Medcare Skin Centre.
[Via Hachima Kikō, Rocket News 24]
---