×
remind me tomorrow
remind me next week
never remind me
Subscribe to the ANN Newsletter • Wake up every Sunday to a curated list of ANN's most interesting posts of the week.
read more
Interest

NHK Program Discusses Anime Industry's Financial, Working-Condition Problems

posted on by Jennifer Sherman
Although many people in Japan see work in the anime industry as a dream job, those lucky enough to find employment in the field face disillusionment. The anime market is now a 2 trillion-yen (about US$18.2 billion) business, but animators and companies involved in making anime often see poor returns. Work in Japan's anime industry has become known as a kind of "black labor" due to low wages and very long working hours. Even industry leaders fear that "As it is, Japanese anime has no future."

NHK's Close-Up Gendai+ program aired an episode about the dark side of the anime industry on Wednesday. The episode discussed the financial problems of the industry and exposed animators' subpar working conditions. Anime director Yasuhiro Irie (Fullmetal Alchemist: Brotherhood, Code:Breaker), Toray Corporate Business Research representative Naoki Atsumi, and announcers Shinichi Taketa and Izumi Tanaka appeared on the program.
The episode showed a graph of increasing annual profits in the anime industry. The small yellow bars represent the portion that anime studios receive. Because production committees hold IP licenses, as well as merchandising and distribution rights, profits from anime productions fail to reach studios.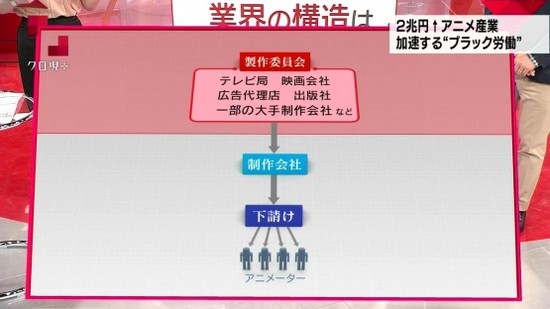 A 30-minute work requires more than 3,000 illustrations. In-between animators receive about 200 yen (US$2) per illustration and can produce a maximum of 20 pages per day. Therefore, they can only expect to earn about 100,000 yen (US$911) per month.


Japan Animation Creators Association (JAniCA) reported in 2015 that animators averaged 11 working hours per day, and they had just four days off per month.

An animator who left his job due to work-related depression kept an overtime log. He reported having 100 overtime hours in one month. The below image shows that the animator started work at 11:30 a.m. on May 22 and finished at 5:10 a.m. on May 23.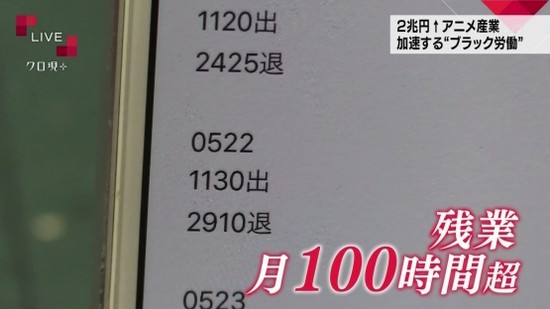 Production I.G co-founder, president, and CEO Mitsuhisa Ishikawa remarked that the anime industry lacks people with the business skills to successfully monetize the system.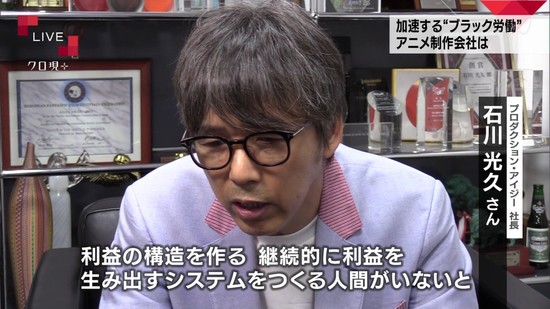 The program presented Polygon Pictures as a studio with better operations. The studio, which focuses on 3D animation, turns off its lights at 10:00 p.m. to encourage workers to go home.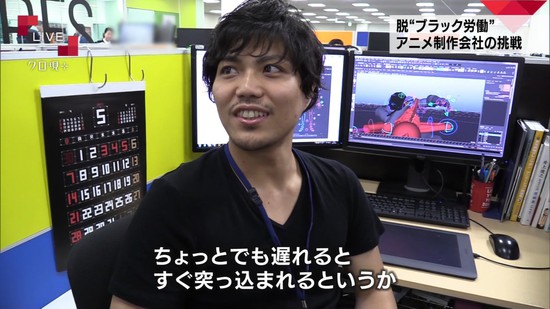 20-year veteran anime technical director Taiki Nishimura reported in May that his monthly income is 100,000 yen (about US$900) for each anime that he works on. He said that he wants to concentrate on one anime at a time, but he has to work on two television anime to have enough income.
JAniCA reported in 2015 that 759 animators it surveyed earned an average of 3.3283 million yen (about US$27,689) per year in Japan in 2013.
[Via Gwyn Campbell, Nijimen, Yaraon!, 0takomu]
---