Interest

Fukuyoka-san Manga Follows Plus-Size Woman in Japan

posted on by Jennifer Sherman
The July issue of Takeshobo's Monthly Manga Life Original launched a new serialization of Ei Imura's Fukuyoka-san (Miss Plump) manga on Monday. The four-panel manga centers on a young woman named Hanako Fukuoka, who at a height of 174 centimeters (about 5'9") and weight of 84 kilograms (about 185 pounds), has a body fat percentage of 35%.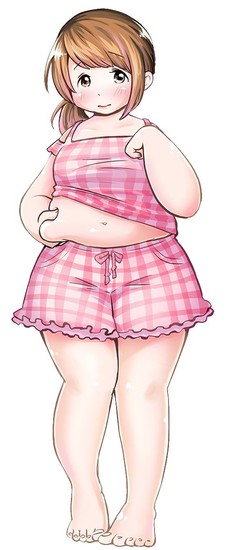 In the first installment, Hanako orders a work uniform. She gets into trouble when the size she orders is a bit too small.
The manga originally gained popularity as dōjinshi, and the magazine began irregularly publishing it in March 2016.
Japanese anime and manga do not often feature plus-size characters in leading roles. Mixed Vegetables author Ayumi Komura's Mori no Takuma-san manga centers on a girl who gets set up to date the son of a company president who happens to be overweight. She turns down his marriage proposal but decides to spend time with him. Komura launched the series in October 2015 and ended it in November 2016.
The idol scene has also added more variety with "marshmallow idol" groups like Pottya and Chubbiness. Marshmallow Girls (like their counterpart, Sausage Bread Guys) started gaining attention in 2013 as an equally cute, fashionable body type.
Source: Comic Natalie
---