×
remind me tomorrow
remind me next week
never remind me
Subscribe to the ANN Newsletter • Wake up every Sunday to a curated list of ANN's most interesting posts of the week.
read more
Interest

Anime Industry Member Discusses Production Committee System

posted on by Jennifer Sherman

The anime industry episode of NHK's Close-Up Gendai+ program has become a topic of widespread discussion online since it first aired earlier this month. The show depicted the dark side of Japan's anime industry in which animators receive low wages for long hours of work. Many people have posted reaction to the program, including Mobile Suit Gundam Wing director Shinji Takamatsu. Takamatsu believes bankruptcy will lead to major changes in the way anime is currently produced.
Many people who commented online criticized anime production committees. According to the show, profits from anime productions fail to reach animators because of the anime industry's current structure. The anime market is now a 2 trillion-yen (about US$18.2 billion) business, but production committees hold IP licenses and merchandising and distribution rights. Therefore, studios receive little revenue from the anime they produce. Exposing this problem on the NHK program lead net users to express the view that production committees and advertising agencies are exploiting animators.
However, not all members of the anime industry share this opinion. ITmedia's Netlab website recently discussed the place of production committees in the anime industry with a staff member from a mid-sized anime production company.
In response to a question about whether advertising agencies "hollow out" an anime's production cost when they join production committees, the production company staff member said, "That is a lie." They said that advertising agencies invest in anime and bear a risk related to project's success. According to the staff member, the invested money becomes part of the production cost and "100%" is eventually paid to the anime's production company.

The production company member denied that companies that enter production committees receive large profits from the agreements. The staff member said that if a company invests in ten anime, only one of those is likely to become a hit and turn a significant profit for investors. They clarified that companies may profit from holding video distribution or merchandising if an anime is successful. For example, if a home video maker invests 10 million yen (about US$90,000) in an anime, it may only receive 8 million yen (US$72,000) back from the production committee. However, if the anime's DVDs sell well, the company may earn 15 million yen (US$134,000) in profit. On the other hand, an anime studio would not receive such revenue from DVD sales and would only receive income related to the production cost.
When asked why the production committee system has increased, the production company member said that the prominence of anime's adult viewership played a role. They credited the business model based on home video sales, which began in the late 1980s to early 1990s. Before then, anime studios made works requested by television networks or sponsors. When companies began to recover production costs through home video sales, studios began to be able to make works that they wanted to make. Production committees became necessary in order for studios to gather production costs.
As a separate example, the production company staff member said that merchandise rights holders will be in the red if 30% of the inventory remains unsold. They explained that DVD and Blu-ray Disc mastering and advertising increase a company's expenses. Therefore, if there are 2,000 or 3,000 discs, the company will be completely in the red. Anime-related merchandise carries an even higher risk than home video releases. Companies have to pay for warehouse space and disposal fees if merchandise fails to sell. Therefore, goods makers may go into debt even from hit anime due to surplus stock.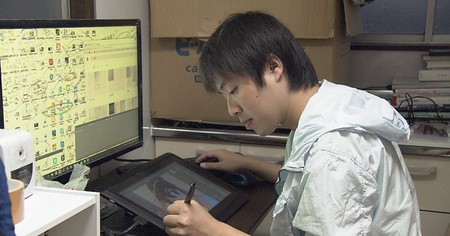 Netlab also asked the production company staff member whether ratings determine if an anime is a hit. The staff member said, "No, a hit is currently what sells DVDs and Blu-rays." Ratings do not influence profit because production committees purchase time slots beforehand. The sales of distribution and merchandising rights have been on the rise in recent years. The staff member said that foreign sales became a kind of economic bubble for the anime industry around 2015, and the bubble is beginning to become stable.
The extensive interview continues the discussion about the financial and working-condition problems within the anime industry, so more industry insiders are likely to provide further responses soon. Anime director Yutaka Yamamoto ("Yamakan"), who has a history of sharing pessimistic views about the anime industry, previously criticized the production committee system in December.
[Via Yaraon!]
---