Interest

Live-Action Gintama Film Video Promotes Restaurant's Beef Bowls

posted on by Jennifer Sherman
The Yoshinoya restaurant chain is collaborating with the live-action film of Hideaki Sorachi's Gintama manga to promote its beef bowls (gyūdon). The chain is streaming a promotional video that features Masaki Suda, who plays Shinpachi Shimura in the film, and Jiro Sato, who plays Henpeita Takechi.
Sato provides commentary in the video. In the video, Suda goes into a Yoshinoya and enthusiastically orders three beef bowls to go. He appears to be on a mission to get home and enjoy the food as quickly as possible. A certain man tries to give Suda a promotional tissue pack, but Suda ignores him. The man refuses to be denied, but Suda continues on without slowing his pace. Not even the appearance of Elizabeth or a man selling a sportscar for 10 yen (about US$0.09) can distract Suda from his quest to get home. After sitting down to enjoy the meal, Suda and his companions remark at how delicious the food is. Sato is sitting next to Suda, and Suda takes a break from his beef bowl long enough to ask, "Hey, who are you?" Sato's only reply is, "Yoshinoya is the best!"
Yoshinoya is also streaming a making-of video for the beef bowl video. The upcoming film's director Yūichi Fukuda (live-action HK/Hentai Kamen, Mr. Nietzsche in the Convenience Store) appears in the video.
The collaboration is holding a Twitter campaign offering prizes to fans. People who take a picture of the campaign poster inside a Yoshinoya and tweet it using the campaign hashtag will be eligible for a chance to win. The prizes are one collaboration poster signed by Sato and Suda, one set of three special tickets to the film, three unreleased Gintama tenugui towels, three novels of the film, five sets of four Elizabeth stickers, and a set of 83 tickets for Yoshinoya beef bowls. The Twitter campaign launched on Monday, and it will run until July 25.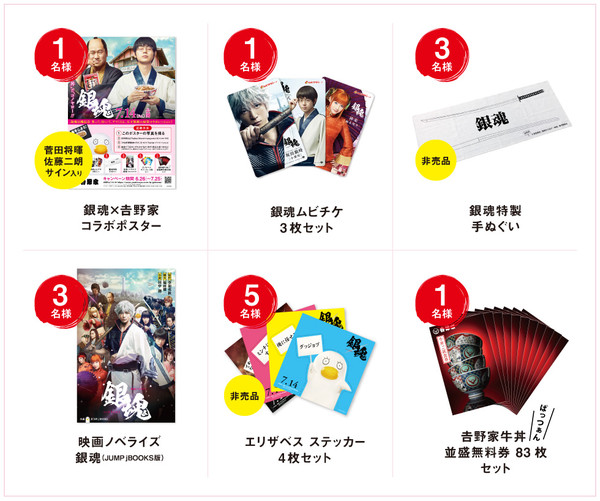 The live-action Gintama film will open in Japan on July 14.
Voice actress Ayana Taketatsu promoted Yoshinoya's beef bowls in 2014.
[Via Nijimen]
---