Interest

A Bride's Story Creator Kaoru Mori Draws Central Asian Food Manga

posted on by Jennifer Sherman
Manga creator Kaoru Mori (A Bride's Story, Emma, Shirley) is drawing the "Minna de Tsukurō! Chūō Asia Cooking" (Let's Make It With Everyone! Central Asian Cooking) manga in cooperation with the Ministry of Foreign Affairs of Japan (MOFA). The first chapter of planned seven-installment series debuted on MOFA's website on Monday.

Japan, personified as a young woman, introduces herself and the Central Asian countries in the manga on the first page of the first installment (seen below). In addition to Japan, the manga features Kazakhstan, Kyrgyzstan, Tajikistan, Turkmenistan, and Uzbekistan as young women.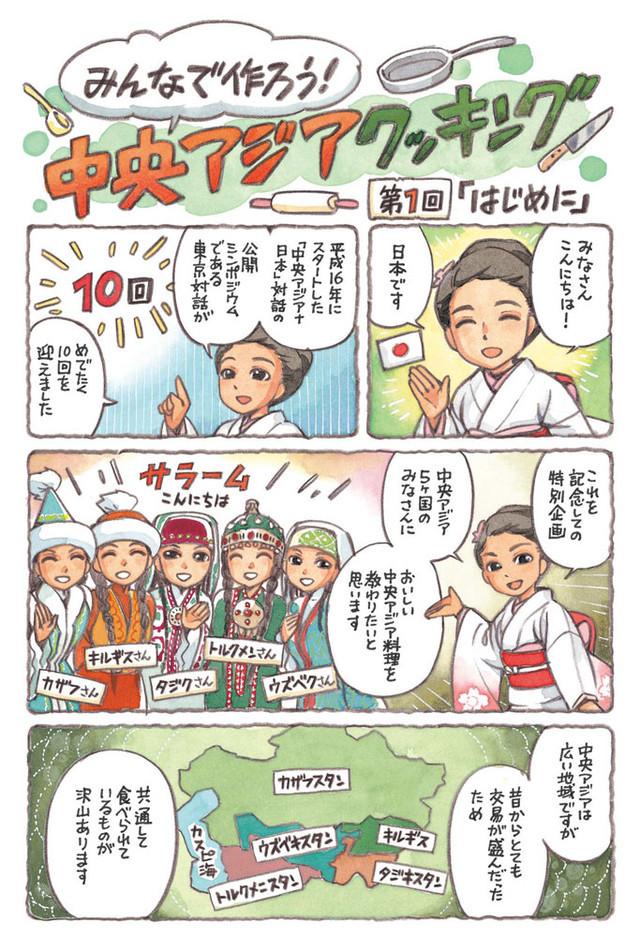 The manga celebrates the Chūō Asia + Nihon (Central Asia plus Japan) dialogue's 10th Tokyo Dialogue, which was held in Tokyo on Thursday. The manga is also part of a project to mark the 25th anniversary of the establishment of diplomatic relations between Japan and Central Asia. The Global Forum of Japan (GFJ) and Japan's Central Asian Cuisine association are also participating in the project.
MOFA's official YouTube channel is streaming three Central Asian recipe videos and a prologue video.
MOFA's website lists the six remaining chapters of the manga as debuting "soon."
Mori's A Bride's Story manga won the Manga Taisho (Cartoon Grand Prize) in 2014. Yen Press is releasing the manga in North America.
Mori's Emma manga inspired the Shirley spinoff manga and Emma: A Victorian Romance television anime. CMX Manga released Emma and Shirley in North America before it shut down in 2010, and Yen Press released Emma in omnibus editions. Nozomi Entertainment released the anime on home video in North America.
Source: Comic Natalie
---