×
remind me tomorrow
remind me next week
never remind me
Subscribe to the ANN Newsletter • Wake up every Sunday to a curated list of ANN's most interesting posts of the week.
read more
Interest

Oregairu's Komachi Tops Poll of Most Popular Younger Sisters in Anime

posted on by Amanda Whalen
Japanese website Anime! Anime! recently held a poll to determine the most popular younger sister anime characters. The poll marked Younger Sister's Day, which is celebrated on September 6 in Japan. The poll also leads up to the premiere of the Imōto Sae Ireba Ii. (A Sister's All You Need.; seen below) television anime, inspired by Yomi Hirasaka and Kantoku's light novels, which will premiere on October 8.

The poll was conducted from September 2-5, and it received 789 votes. Participants chose from a list of about 30 characters that was created after collecting fan opinions via Twitter. Among the respondents, 75% identified as male and 25% as female. Respondents 19 years old and younger made up 50% of the people who responded, and 25% were in their 20s.
First place in the poll went to Komachi Hikigaya of Oregairu, also known as My Teen Romantic Comedy SNAFU or My youth romantic comedy is wrong as I expected. Komachi took 10% of the vote to win first place. In the anime's story, she spends her time trying to support her friendless, antisocial older brother Hachiman and help him find a girlfriend. The anime inspired by Wataru Watari's light novel series aired for two seasons in 2013 and 2015. The original series was the best-selling light novel series in Japan in 2015, and it topped the Kono Light Novel ga Sugoi! list for two consecutive years. The novels have also received two PS Vita games that will get PS4 ports this October.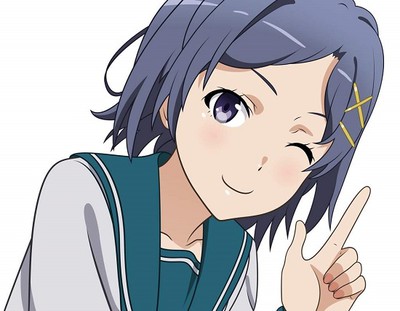 Coming in second place was Sagiri Izumi of Eromanga Sensei. The anime's story follows high school student and author Masamune Izumi after he discovers that his reclusive younger sister is secretly the artist who has been drawing the extremely perverted artwork for his light novel series. The Eromanga Sensei anime is based on Tsukasa Fushimi's light novel series of the same name and originally aired this past spring for 12 episodes.

Re:ZERO -Starting Life in Another World-'s Rem, the younger, blue-haired member of the show's maid duo, ranked at #3 in the poll. The series' story follows hapless protagonist Subaru Natsuki after he is transported to a fantasy realm and discovers that he resets every time he dies. The 25-episode anime inspired by Tappei Nagatsuki's light novel series debuted in 2016. The series has also received a PS4 and PS Vita game, as well as two series of anime shorts.

Here are the rest of the top 20 younger sisters in the poll:
Ui Hirasawa from K-ON!
Mikan Yūki from To Love-Ru
Suguha Kirigaya (Leafa) from Sword Art Online
Shiro from No Game, No Life
Miyuki Shiba from The irregular at magic high school
Kirino Kōsaka from Oreimo (My Little Sister Can't Be This Cute)
Umaru Doma from Himouto! Umaruchan
Kagura from Gintama
Kobato Hasegawa from Haganai
Ai Haibara from Detective Conan
Karen Araragi from Monogatari Series
Tsukihi Araragi from Monogatari Series
Lotta Otus from ACCA: 13-Territory Inspection Dept.
Nunnally Lamperouge from Code Geass
Haru Onodera from Nisekoi
Miyu Edelfelt from Fate/kaleid liner Prisma Illya
Rino Tanaka from Tanaka-kun is Always Listless
Source: Anime! Anime! (Katsunori Takahashi)
---