Interest

JoJo, Fist of the North Star Creators Discuss Their Manga, Influences

posted on by Amanda Whalen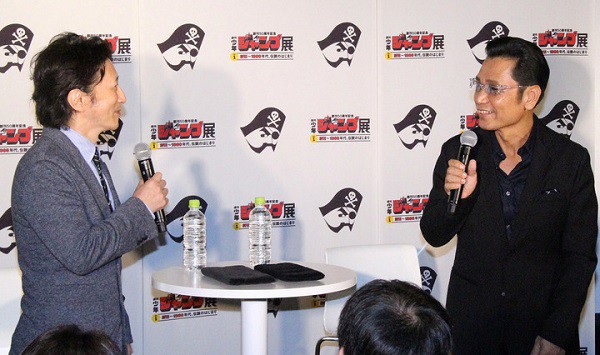 Hirohiko Araki, the creator of JoJo's Bizarre Adventure, and Tetsuo Hara, the artist behind the Fist of the North Star manga, discussed their experiences drawing their respective series at the "Legend Talk Show" event held last week as part of the "Sōkan 50 Shūnen Kinen Shūkan Shōnen Jump-ten Vol. 1" exhibition that commemorates the 50th anniversary of Shueisha's Weekly Shonen Jump magazine. The manga artists gave insight into their interactions with their editors during the golden age of Shonen Jump in the '80s and '90s and talked about their influences and how their respective series began.
When Araki made his debut, he was working with editor Ryōsuke Kabashima, who is currently the head of Shueisha's new book editorial department. Kabashima apparently pressured Araki, who dislikes traveling abroad, into making a trip to Egypt. The trip helped him depict the country in JoJo's Bizarre Adventure: Stardust Crusaders Egypt Arc.

Araki also recalled a time when he drew something that resembled the works of Hisashi Eguchi (Stop! Hibari-kun, Eguchi Hisashi no Nantoka Naru Desho!), who is known for depictions of female characters. Upon seeing Araki's work, Kabashima angrily told him not to draw such a derivative work again. Araki then decided to go in a different direction, and that was connected to his eventual creation of JoJo's Bizarre Adventure.
Additionally, Araki related an episode about bringing in a manga manuscript to Shueisha's office. He said that he once saw another manga artist crying as their editor said, "This work is boring, so I'm putting it through the shredder." Araki worried about whether the same sort of thing might happen to him.
Both Araki and Hara reminisced about their editors giving them a hard time. Hara said, "Editors control [the manga artists], you know. They're very smart." He described his former editor Nobuhiko Horie, who is now the president of the Japanese manga and anime production company Coamix. Hara said of Horie, "He's usually nice. But I work slow, and that makes his aura get like Raoh's [from Fist of the North Star]. He would bang on the desk and say, 'Why have you only gotten this far [in the manuscript]?' That was scary."

Horie challenged Hara about the iconic phrases "Hidebu!" and "Abeshi!" that appear in the Fist of the North Star series, saying, "These are misspelled!" Hara countered by grumbling, "They're not spelling mistakes. It's just something I've been tentatively thinking about." According to Hara, it was a struggle to get Horie to go along with the idea. "Hidebu" is a modified combination of a scream of pain ("Itee," 痛ぇ) and "Boom!" "Abeshi" is a combination of the scream "Ahh!" and "besshi," the Japanese onomatopoeia for being punched in the face.
Hara also said, "Editors stir up the rival hearts of fellow manga artists." When asked about manga artists that he looks up to, Hara mentioned Ashita no Joe creator Tetsuya Chiba.
In addition, he said that the Akira creator Katsuhiro Otomo was "incredibly influential" for him. Hara shared a story about his younger days related to Otomo. He said, "I heard that Otomo was living in Kichijōji, so I went and looked for his house, but I couldn't find it. Kichijōji was unexpectedly large." Kichijōji is a neighborhood in Musashino, Tokyo.
Hara drew laughs from the audience at the Shonen Jump event when he joked, "I thought that I wanted to make a living drawing manga until I die, and that's ended up becoming a reality... I really regret that now."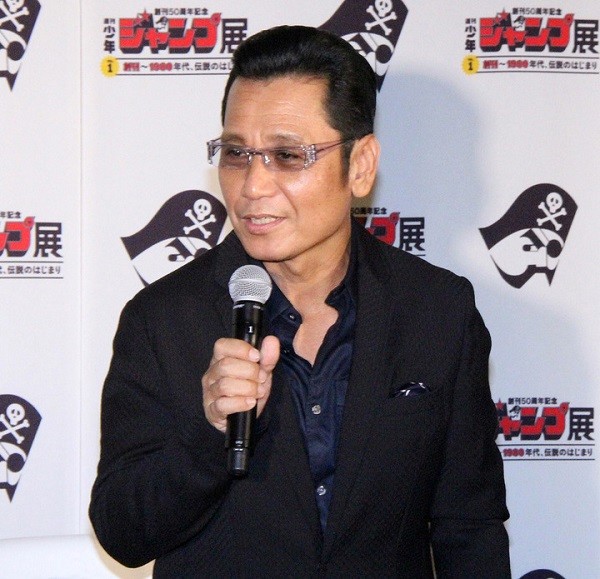 Buronson provided the story for the Fist of the North Star manga that Hara illustrated, and the series ran from 1983 to 1988 in Shonen Jump magazine. The popular franchise has inspired multiple spinoff manga, anime, films, OVAs, and video games. The most recent anime adaptations were the DD Fist of the North Star II and Fist of the North Star: Strawberry Flavor comedy anime spinoffs that aired in 2015. Crunchyroll streamed both anime. The Hokuto no Ken - Seikimatsu Zako Densetsu (Fist of the North Star - End of the Century Legend of a Random Thug) stage play about random thugs ran in Tokyo earlier this month. A Kickstarter campaign is running to publish the original manga digitally in English.
Araki's JoJo's Bizarre Adventure manga debuted in Shonen Jump in 1987 and later moved to Shueisha's Ultra Jump magazine. The long-running manga is currently serializing Part 8, "JoJolion." Viz Media is publishing the manga in English. Araki provided more information about his influences and art style in an interview with ANN in June.
The JoJo's Bizarre Adventure anime adaptation's fourth installment, JoJo's Bizarre Adventure: Diamond Is Unbreakable, aired from April to December 2016, and Crunchyroll streamed the series as it aired. A live-action film, titled JoJo's Bizarre Adventure: Diamond wa Kudakenai Dai-Ichi-Shō (JoJo's Bizarre Adventure: Diamond Is Unbreakable Chapter I), opened in Japan on August 4 and ranked at #5 at the Japanese box office in its opening weekend.
Source: Mainichi Shimbun's Mantan Web (link 2)
---