Interest

Rental Versions of Sword Art Online: Ordinal Scale Film Reveal Asuna's Nipple

posted on by Jennifer Sherman
The Sword Art Online: Ordinal Scale film hit shop shelves as a rental DVD in Japan on Tuesday. Some fans hurried to pick up a copy to confirm whether the bath scene reveals Asuna's "assets." The film's director Tomohiko Ito and fellow staff members teased in July that the Japanese Blu-ray Disc release of the film may reveal Asuna's nipples during the scene.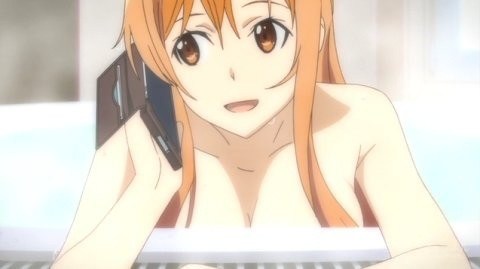 Fanboys in Japan are rejoicing because the rental release does include a brief reveal of Asuna's nipple around the 25:52 mark as she is getting out of the bath. The scene also reveals the popular character's rear end.
In addition to the buzz over Asuna's body reveal, the release is in the news because the rental version of the film includes new text before the film starts. The new text confirms that the film's post-credits scene is a teaser trailer for an upcoming "new work." The original theatrical version of the film already screened the teaser after the ending credits, but it did not have this new text. The retail Blu-ray Disc and DVD release of the film will ship in Japan on September 27.
The anime film's staff said during an interview published in July that the Blu-ray Disc release of the film could have an upgraded bath scene with more detail. During the interview, Ito said that both a version that shows Asuna's nipple and a version that doesn't were made. Additionally, he suggested that the reveal was very slight.
Ito had confirmed on Twitter in June that the film had been slightly "refined" for the Blu-ray Disc release. Sound director Yoshikazu Iwanami then asked if there might be a nip slip. Ito replied, "You can properly see [it]!" Iwanami then teased that the only way for fans to find out for sure would be to buy the release.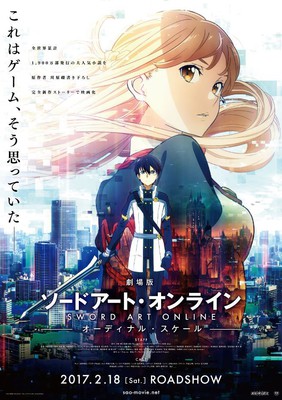 Some people who attended theatrical screenings of the film in North America complained that screenings were censored with zooming in on Asuna's shampoo bottle and cell phone.
The anime's theatrical screenings earned more than 3.35 billion yen (about US$30.1 million) worldwide, and sold more than 2,750,000 tickets. The film opened in Japan on February 18, and Aniplex of America and Eleven Arts screened the film in the United States on March 9 after a Hollywood premiere was held on March 1. The film also screened in Canada during the March 17-19 weekend. The film then returned to U.S. theaters with an English dub starting on April 22.
---