Interest

Fate/stay night: Heaven's Feel's Characters Become Rice Bowl Restaurant Workers

posted on by Jennifer Sherman
The donburi (rice bowl) chain Nakau's official English website describes it as "the restaurant where you can enjoy everyday Japanese meals without breaking the bank." However, it seems that the restaurant is doing more than branching out to support foreign diners. Even Masters and Servants on the quest for the Holy Grail are starting to enjoy the chain's tasty offerings.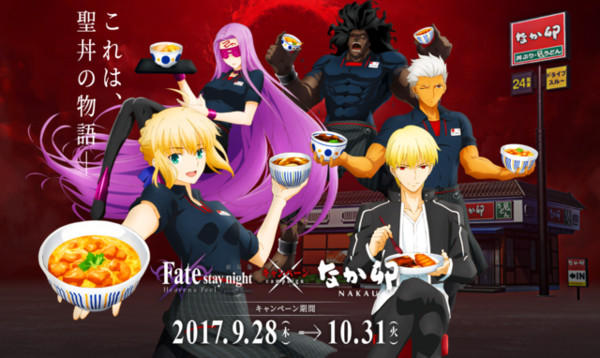 The Kyoto International Manga Anime Fair (KyoMAF) — held yearly at the Miyako Messe event hall, the ROHM Theater Kyoto across the street, and at the nearby Kyoto International Manga Museum — revealed Nakau's collaboration with Fate/stay night: Heaven's Feel last weekend. A collaboration featuring the film's main characters will be held from September 28 to October 31.
People who order from the collaboration menu will receive one metallic card with each order. Two sets of six cards will be available, with the first set available from September 28 to October 18, followed by the second set from October 19 to October 31. Each set will include one rare card. If the Master cards are placed next to their respective Servant cards, the pairs will make a single image consisting of two cards. If people line up the Saber Alter, Saber, Shirou Emiya, and Sakura Matou cards in order, the set of four cards will also make an image.

In addition, fans can use their collaboration meal ticket or receipt information to enter on the campaign's official website for a chance to win one of 1,000 prizes. The prizes will include 100 Holy Bowls, 300 A2-size tapestries, and 600 A3-size posters.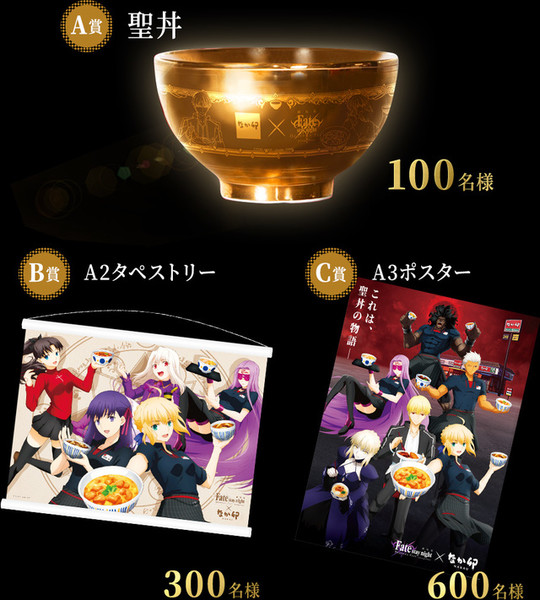 Special recordings of Noriko Shitaya as Sakura will play at Nakau restaurants during the campaign, and Tokyo's Ikebukuro Sunshine-mae shop will feature Fate/stay night: Heaven's Feel wrapping. Zensho net store will offer limited-edition goods, including keychains and clear files, from October 19 to November 6. Life-size cutouts with special campaign illustrations of the film's characters are debuting at eight of the restaurant's locations this month.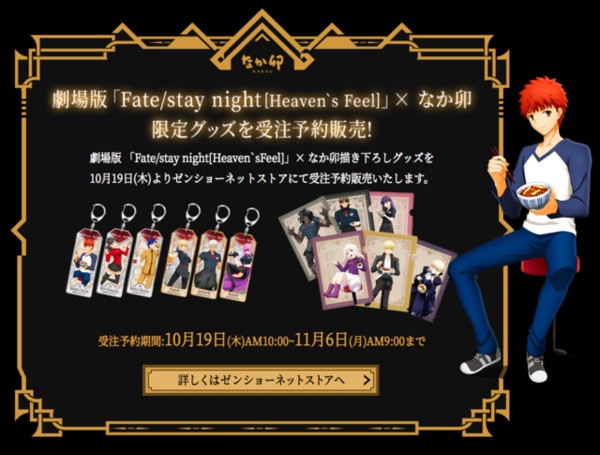 Fate/stay night: Heaven's Feel I. presage flower will be the first in a three-part film series. The film will premiere in theaters in Japan on October 14. Aniplex of America will screen the film theatrically in the United States.
Voice actress Nana Mizuki (Naruto's Hinata, Magical Girl Lyrical Nanoha's Fate) appeared in a commercial for Nakau in 2015 to demonstrate the proper way to eat eel.
---