Interest

20+ Manga Creators Celebrate To Love-Ru -Trouble- in 10th Anniversary Book

posted on

2017-10-17

18:45 EDT by Jennifer Sherman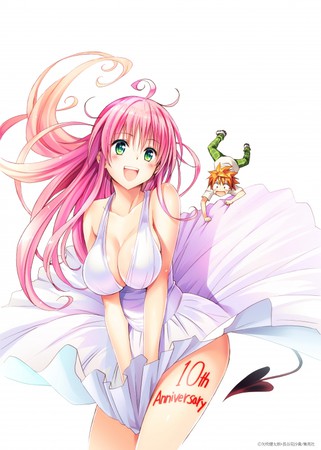 Shueisha is releasing the To Love-Ru -Trouble- Series 10-Shūnen Anniversary Book Trouble Chronicle book on November 2 to celebrate the 10th anniversary of the To Love-Ru franchise. The editorial department of Shueisha's Jump SQ. magazine revealed on Tuesday the list of creators contributing illustrations to the book.
Here are the manga creators and artists who provided tribute illustrations:
Osamu Akimoto (Kochikame)
Hirohiko Araki (JoJo's Bizarre Adventure)
Hajime Isayama (Attack on Titan)
Kei Ishi (TiTiKEi )
Ippongi Bang (It's Bang Ippongi's Diary of a Manga Artist)
Yūichi Oka (To Love-Ru)
Eiichiro Oda (One Piece)
Takeshi Obata (Death Note)
Masakazu Katsura (Tiger & Bunny)
Ryōma Kitada (Dokyū Hentai HxEros)
Yuki Sato (Tomodachi Game)
Takashi Shiina (Zettai Karen Children)
Hiroshi Shiibashi (Nura: Rise of the Yokai Clan)
Kenta Shinohara (Sket Dance)
Yoshiaki Sukeno (Twin Star Exorcists)
Hideaki Sorachi (Gintama)
Rumiko Takahashi (Inuyasha)
Akira Toriyama (Dragon Ball)
Tadatoshi Fujimaki (Kuroko's Basketball)
Yuusuke Murata (One-Punch Man)
Takuma Yokota (Sesuji wo Pin! to ~Shikakō Kyōgi Dance-bu e Yōkoso~)
Nobuhiro Watsuki (Rurouni Kenshin)
The Jump SQ. magazine's editorial department also revealed that the oversized December issue will feature a To Love-Ru -Trouble- spinoff manga. The issue will mark the magazine's 10th anniversary and ship on November 4.
The To Love-Ru -Trouble- anniversary book was originally slated to ship on August 4. However, Jump SQ.'s editorial department announced that the release was delayed.

The release will bundle a new original video anime (OVA) project and an anime postcard. In addition, the book will feature two bonus spinoff chapters of To Love-Ru -Trouble- Darkness that Shueisha published in the May and June issues of Jump SQ. Those spinoff chapters are the basis for the OVA bundled with the book. The book will also feature original package illustrations by To Love-Ru -Trouble- Darkness manga artist Kentaro Yabuki, Yabuki and manga author Saki Hasemi's research plans for the manga, color illustrations, and other content.
The main To Love-Ru -Trouble- Darkness manga ended in the April issue of Jump SQ. on March 4. The manga is a sequel of the first To Love-Ru -Trouble- series, and it launched in Jump SQ. in 2010. The series has over 14 million copies in print.
Hasemi said in the manga's 18th and final volume in April that Love-Ru -Trouble- Darkness is "not the final chapter" of To Love-Ru.
[Via Yaraon!]
---