×
remind me tomorrow
remind me next week
never remind me
Subscribe to the ANN Newsletter • Wake up every Sunday to a curated list of ANN's most interesting posts of the week.
read more
Interest

Violet Evergarden, Saekano, Gundam 00, Shine at C3 Anime Festival Asia Singapore 2017

posted on by Kim Morrissy
The C3 Anime Festival Asia Singapore holds the crown as the biggest anime festival in Asia outside of Japan. The con celebrated its 10th anniversary this year, and was attended by over 96,000 people. This year's events featured no major changes from the previous ones, but why fix what isn't broken?
Notably, 2017's guest lineup included the main staff of Violet Evergarden, which was part of the convention's "featured anime" lineup this year. The first episode was screened at the event, followed by a brief talk session with the staff. Nothing new about the project was revealed here, but the staff did reiterate the core themes that were mentioned at the premiere events in the US, Germany, and Japan: Violet Evergarden is a coming-of-age story about a girl learning about love, and the staff put an enormous amount of effort into realizing that.
For more detailed impressions about the episode itself, read this article about the Japanese premiere event in October. I'll note that the audience in Singapore responded well to the episode; the ending was greeted with a huge round of applause. It was also a nice touch to see Angie, a high-profile cosplayer from Malaysia, on stage dressed as Violet for the talk show.
As a featured anime, Violet Evergarden also had its own booth on the main floor area. Key animation frames from the first episode were shown here, along with character designs. Show bags and leaflets with information about the show's story and characters were also being handed out.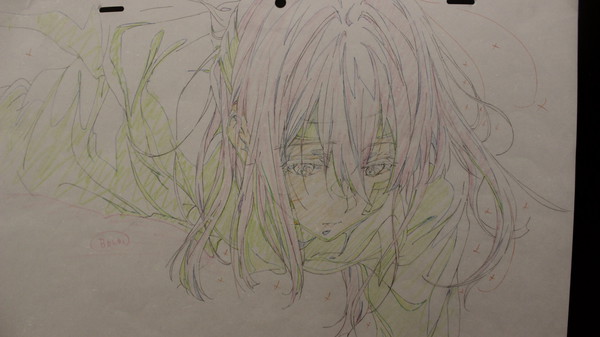 Other Featured Anime
Saekano: How to Raise a Boring Girlfriend Flat also received its own booth and a stage show at C3 AFA Singapore. In the stage show, the lead voice actors got together and discussed their top scenes from the show. Those who have seen the show will probably not be surprised by which scene was number one. (Don't click the link if you don't want spoilers.)
At the Saekano booth, illustrations by the light novel illustrator Kurehito Misaki and other artists were on display. A life-sized figure of Megumi Kato was on sale at AFA Singapore as well. This figure is particularly infamous because only ten of them were ever made, and someone actually reported buying one a few months ago for around 17,000 USD.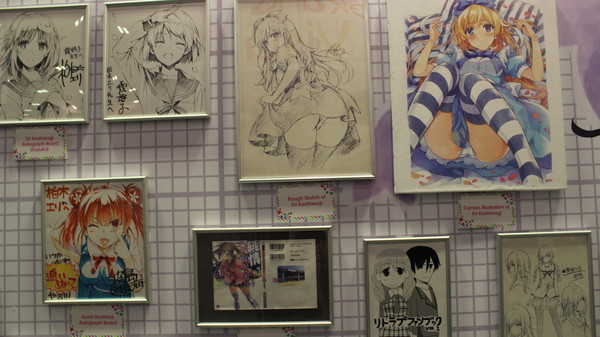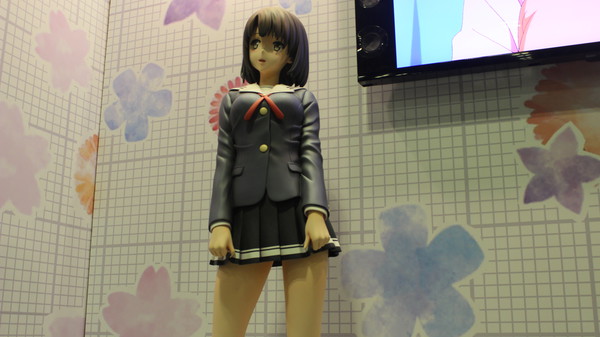 Beatless is an upcoming sci-fi anime directed by Seiji Mizushima, the director of the original Fullmetal Alchemist anime. Mizushima came to C3 AFA Singapore to talk about his new show. The anime is based off a six-year-old novel by Satoshi Hase, but Mizushima feels that the story is more relevant today because of advancements in robotics and AIs. He is very excited about the anime, which will be airing on Amazon next season.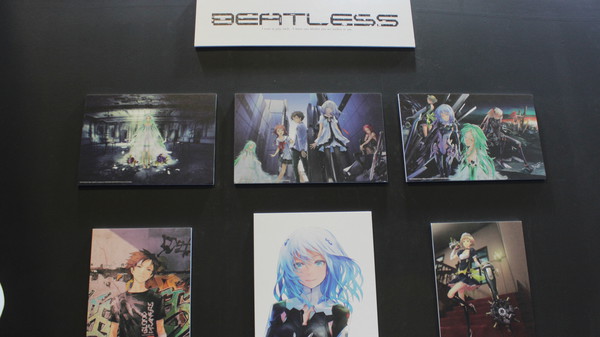 Mizushima also attended a stage show about the 10th anniversary of Gundam 00. This proved to be amusing, even if there was no new Gundam 00 content to promote. Spoiler territory ahead: Mizushima was asked why Gundam 00 has aliens. People in the audience laughed at this question, as the existence of aliens in the Gundam 00 universe was one of the more ridiculous developments in that series. Mizushima took the question seriously, however, and responded that he was aiming to create a "first contact" story, and that "first contact" stories fit in well with Gundam's core themes of clashing cultures and ideologies. In other words, he was trying to use a classic sci-fi trope to express Gundam's themes in a fresh way.
Record of Grancrest War is a new light novel series by the author of Record of Lodoss War. Grancrest War is also getting an anime series, the first episode of which was screened at AFA Singapore as its world premiere. Kentaro Kumagai, the voice actor of the protagonist Theo, attended as a special guest. The other voice actors who could not personally attend left notes at Grancrest War's booth, saying how much they enjoyed the anime and how they appreciate its scale as an epic fantasy war story, the likes of which you don't see often these days.


Other anime featured at C3 AFA Singapore include: Frame Arms Girls, B-Project, and Hakata Tonkotsu Ramens.
"I Love Anisong" Concert
Anime Festival Asia is famous for its anisong concerts, and the lineup this year did not disappoint. Of particular note was ClariS's presence—this was their first ever international concert, and the fans predictably went wild over them. This was also the first time for the idol group Nogizaka46 to perform in Singapore. Mainstay performers like May'n and Nano also returned to Singapore, even as the roster of artists continues to expand.
The atmosphere in the concert hall was charged with energy. Although some concert-goers paid premium tickets to get their own seats and special glow sticks, there was nothing discomforting about the experience even for those who stood at the back inside the mosh pit. People were careful not to step on or push others as they enthusiastically waved their glow sticks to the music. The sound volume and acoustics in the hall were also pitch perfect, which created a sense of ambience that you can only get from watching a musician live.
Although not a big J-Pop fan myself, I'd go far enough to say that AFA is a must-attend event for any anime fan, just for the anisong concerts alone. It is no wonder that some people go solely for the concerts.
The Rest
Besides the concerts, C3 Anime Festival Asia Singapore mainly showcases commercial booths, which are managed by various Japanese and Singaporean anime-related companies. Some products on sale were AFA exclusives. For example, Kotabukiya created a limited edition Frame Arms X Seika Baselard model kit, which was sold for the first time ever at this year's event.

C3 AFA is also a great event for cosplayers. Every year, the convention hosts a cosplay competition, called the Cosplay Singles. The interesting thing about this competition is that most of the judging takes place when nobody's really looking. The judges simply walk around the event hall and scout out the most eye-catching cosplayers, who are then showcased on a stage inside the main hall. This is one of the reasons why you'll see so many cosplayers just walking around the halls casually at C3 AFA.
Overall, I had a lot of fun with C3 AFA Singapore this year. It was my first time attending, but I hope to attend it again one day. LiSA has already announced that she'll be performing there next year, so that's already one solid reason to go!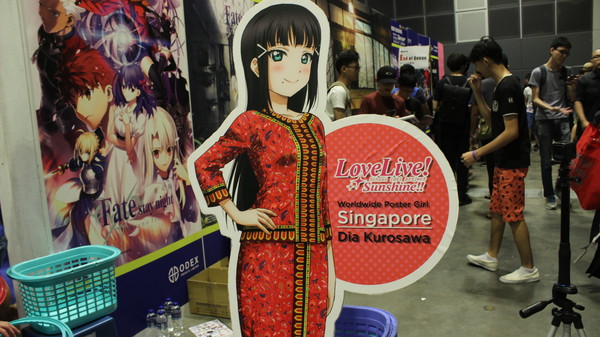 BONUS: Here's a blessed image of Dia Kurosawa from Love Live Sunshine, representing Singapore.
---