Interest

Yahoo! Search Awards Honor Kemono Friends, Junichi Suwabe, Dragon Quest XI

posted on by Rafael Antonio Pineda, Jennifer Sherman
Yahoo! awarded Kemono Friends in the Anime division of its "Yahoo! Search Award 2017" ceremony on Wednesday. Yuka Ozaki (voice of Serval) was on hand to receive the award while in costume as her character. She said, "Amazing! So everyone's the Friend who loves searching!" The comment uses variations of Serval's catchphrases from the anime, which placed in the top 10 in this year's Gadget Tsūshin's Anime Ryūkōgo Taishō buzzword awards.
Junichi Suwabe (Black Clover's Yami Sukehiro, Fullmetal Alchemist's Greed) won the Voice Actor division. Dragon Quest XI won the Game division, and the Nintendo Switch won the Home Electronics division.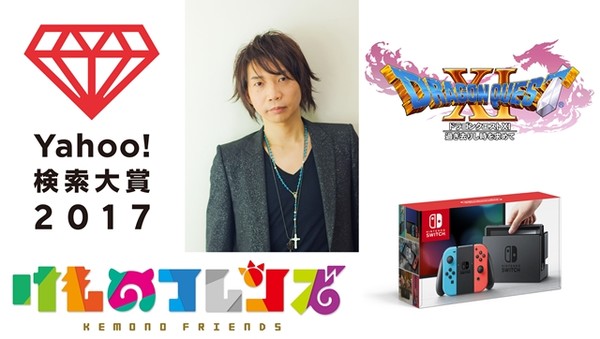 In addition, Issei Takahashi (Whisper of the Heart's Seiji Amasawa, live-action Ikebukuro West Gate Park's Kazunori Morinaga) won the Actor division, and Riho Yoshioka (Detective Conan: The Crimson Love Letter's Mikiko Hiramoto) won the Actress division. Namie Amuro (One Piece, Inuyasha theme songs) won the Musician division, and Keyakizaka46 again won the Idol division. Actress Mei Nagano (live-action Peach Girl's Sae Kashiwagi, live-action Rurouni Kenshin Part I: Origins's Tsubame Sanjo) won the Special division for females.
Yahoo! used its search engine data in Japan from January 1 to November 1 to determine the awards. The awards include 10 awards in the Person Category, seven awards in the Product Category, six awards in the Culture Category, and 47 awards in the Local Category.
"Kemono Friends" was also the most-tweeted buzzword among the nominees for this year's annual Ryūkōgo Taishō buzzword awards.
The winners of Yahoo! Search Award 2016 included Mr. Osomatsu, Dean Fujioka, your name., and Yūichi Nakamura.
Sources: The Mainichi Shimbun's Mantan Web, Animate Times
---