Interest

Revolutionary Girl Utena Comes of Age With Rosy Alcohol

posted on by Lynzee Loveridge
Anime News Network's merchandise coverage sponsored by
Tokyo Otaku Mode
.

---
Unlike Ram and Rem's pink birthday drink, this celebratory potable could get you a wee bit tipsy. Kunihiko Ikuhara's Revolutionary Girl Utena is 20 years old, which means its coming of age in Japan and can legally drink. A special liqueur was prepared for the occasion and it's—you guessed it—rose.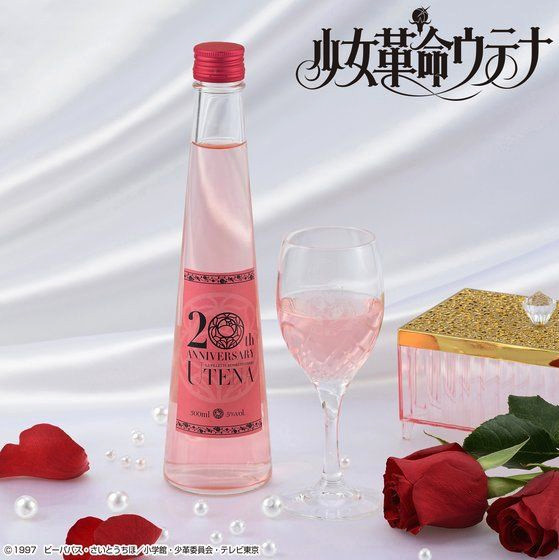 Roses are literally soaked in the alcohol it give it its color and scent. The bottle comes with an engraved glass showing the profiles of Utena and Anthy looking into one another's eyes.

Both items are sold as a set for 9,800 yen (US$90). Pre-orders are open until February 12 and orders will be shipped in May.
The rose liqueur isn't the only alcohol produced for Utena's anniversary. A lottery just closed for a one-of-a-kind bottle of white wine with a similarly engraved glass. The golden-hued Cuvée Madame de Château Coutet Premier Cru Classe wine bottled in 1997, the same year the anime premiered, was up to buy for 200,000 yen (US$1,836).

The Revolutionary Girl Utena anime series' 20th anniversary celebrations so far include new manga chapters by Chiho Saito and a new stage musical. North American anime licensor Nozomi Entertainment planned to release the series on Blu-ray last year but the set has since been delayed.
[Via Nijimen]

---
Disclosure: Bandai Namco Rights Marketing, Inc., a wholly owned subsidiary of Bandai Namco Holdings Inc., is a non-controlling, minority shareholder in Anime News Network Inc.
---