×
remind me tomorrow
remind me next week
never remind me
Subscribe to the ANN Newsletter • Wake up every Sunday to a curated list of ANN's most interesting posts of the week.
read more
Interest

Over 180 New Figures Announced at Winter Wonder Festival 2018

posted on by Kim Morrissy
Wonder Festival first began as an event where fans showcased their amateur-made sculptures, called "garage kits." This tradition still continues today, but Wonder Festival is now also an event for major toy companies like Good Smile, Alter, Kadokawa, Kotobukiya, MegaHouse and many others to show off their upcoming products. Over 180 new figures were announced at this year's Winter Wonderfest; here are some of the highlights.


Let's start with what I think was the coolest announcement: the Devilman figure. This was shown off in the open and also in a dark room where it had a glow-in-the-dark effect.


The Land of the Lustrous figma announcement also struck me as neat, since it's fitting for these characters to have detachable limbs and whatnot.

Virtual Youtuber Kizuna Ai is getting her own Nendoroid from Good Smile Company. She also had a video playing at the event, where she told everyone to go buy up some figures.





Predictably, the Fate franchise was huge this year, with dozens of Fate Grand Order figures being shown off by various makers. A life-sized version of Arturia's sword Excalibur was also being previewed at the Proplica booth. The sword is made of plastic but if you press a button, Saber's voice will yell the name of her Noble Phantasm.

A Kirito cosplayer was showing off the Elucidator sword, complete with sound effects:
And the Dominator from Psycho-Pass was also being shown off again.
Other series that remained strong in the figure front this year included KONOSUBA and Re:Zero. Even previously announced figures were shown off again this time.




The new figures this time were of Aqua and Emilia, the heroines who aren't the most popular characters in their shows, but always try their best anyway.


DARLING in the FRANXX and Card Captor Sakura Nendoroids are also in the works!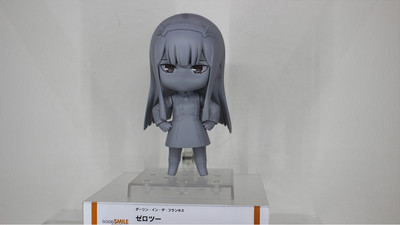 Touken Ranbu also continues to be popular at WonderFest, with an almost life-sized Mikazuki on display.

Once again, the beautiful hand-crafted puppets from PILI that were used in Thunderbolt Fantasy were displayed at WonderFest, along with a short commentary video from the puppetmakers.

Outside anime, the Marvel and Star Wars franchises were popular among figure makers.


In the Garage Kit area, plenty of hobbyist figure makers were showing off some amazing work of their own.




Often, you can look at the Garage Kit area to anticipate upcoming trends, given that it takes far longer for the commercial toy makers to obtain rights and develop figures for a new series. A lot of Garage Kit makers appeared to have fun with Pop Team Epic this time.

Finally, WonderFest is a great event for cosplay, both from the fan and the corporate side. Here is a photo of a Good Smile Racing Miku. Good Smile Racing is a subsidiary company of Good Smile Company, which deals in model vehicles. Miku has been used as a mascot for the company since at least 2010.

On the fan side, there were some interesting cosplays. Here is Nausicaä and her Horseclaw steed KAI. There is an adult man inside of this Horseclaw, who walked around the halls in that outfit for the entire day.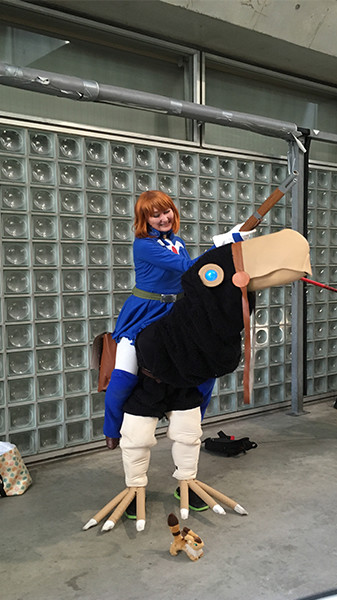 Finally, this year's WonderFest had some exciting anime announcements for DanMachi and Goblin Slayer. These announcements took place on a large stage adjacent to the Good Smile and Max Factory booths. Throughout the day, various stage shows and musical performances help liven up the atmosphere of the event. These shows are streamed online.
WonderFest is a biannual event. The winter event takes place in February, while the summer event takes place in August or late July. This event is held in the Makuhari Messe convention center in Chiba, east of Tokyo.
More photos from the event are below:
---