×
remind me tomorrow
remind me next week
never remind me
Subscribe to the ANN Newsletter • Wake up every Sunday to a curated list of ANN's most interesting posts of the week.
read more
Interest

Anime Tourism Association Announces Top 88 Pilgrimage Sites for 2019

posted on by Kim Morrissy

The Anime Tourism Association revealed its 2019 list of 88 anime pilgrimage sites at the 31st Tokyo International Film Festival in Roppongi Hills on October 29. The results are based on a poll conducted on the Anime Tourism Association's website from June to August this year.
This year's list features over 20 new series, including A Place Further Than the Universe (Tatebayashi City, Gunma Prefecture), Sword Art Online: Ordinal Scale (Tokyo), and Laid-Back Camp (Minobu City, Yamanashi Prefecture).
Classic pilgrimage spots such as Hana-Saku Iroha (Yuwaku Onsen, Kanazawa City, Ishikawa Prefecture) and The Melancholy of Haruhi Suzumiya (Nishinomiya City, Hyogo Prefecture) also made it to the list for the first time.
The 2018 list was criticized online for its lack of transparency about the internal selection process and the unexplained gaps between what titles the fans voted for and what made it to the final list. Michael Vito, an American anime pilgrimage fan and travel writer, argued that many of the top-voted works by Kyoto Animation and P.A. Works were discarded in favor of titles that Kadokawa had a financial stake in.
Tsuguhiko Kadokawa, chairman of the Kadokawa Corporation and the Anime Tourism Association, said that last year there was some difficulty in getting the rights cleared with all the Intellectual Property owners within a short space of time, but claimed that they were able to rectify that issue this year.
Newly Added Anime Pilgrimage Sites of 2019
Date, Hokkaido (Masamune Datenikuru)
Tatebayashi, Gunma (A Place Further Than the Universe)
Kawagoe, Saitama (Tsuki ga Kirei)
Wako, Saitama (Saekano: How to Raise a Boring Girlfriend)
Chiba, Chiba (My Teen Romantic Comedy SNAFU)
Taitō, Tokyo (Mitsuboshi Colors)
Shibuya, Tokyo (Chaos;Child)
Nakano, Tokyo (THE

[email protected]

)
Toshima, Tokyo (Saekano: How to Raise a Boring Girlfriend)
Nerima, Tokyo (Digimon Adventure tri.)
Tachikawa, Tokyo (A Certain Magical Index)
Fujisawa, Kanagawa (Rascal Does Not Dream of Bunny Girl Senpai)
Fujisawa, Kanagawa (TARI TARI)
Fujisawa, Kanagawa (tsuritama.)
Fujisawa, Kanagawa (Katana Maidens: Toji no Miko)
Yuwaku Onsen in Kanazawa, Ishikawa (Hana-Saku Iroha)
Minobu, Yamanashi (Laid-Back Camp)
Komoro, Nagano (Waiting in the Summer)
Seki, Gifu (Katana Maidens: Toji no Miko)
Nishinomiya, Hyōgo (The Melancholy of Haruhi Suzumiya)
Fukuoka, Fukuoka (Hakata Tonkotsu Ramens)
Tsushima, Nagasaki (Angolmois: Genkō Kassen-ki)
Yaeyama Islands, Okinawa (Non Non Biyori Vacation)
The 2019 list still does not feature K-ON!, Sound! Euphonium, Free! - Iwatobi Swim Club, or Beyond the Boundary, all of which made it to the top 30 among the fan-voted titles in the previous poll. your name. was among the previously featured titles that were removed for the 2019 list.
Although the Association has not released the results of the fan poll for the 2019 list, they revealed statistics from the poll indicating the popularity of the project overseas. For the 2018 list, 60% of voters were from outside Japan. The percentage increased to 75% for the 2019 poll.

The top five foreign countries represented in the poll were Taiwan, China, Hong Kong, South Korea, and Thailand. The Association attributed this to the close physical proximity between those countries and Japan. Voters from those countries also reported higher rates of visiting the pilgrimage sites they were voting for (e.g. 39% of Taiwanese voters compared to 22% of Italian voters). Japanese voters, predictably, had the highest rate of all, with 70% of them saying they'd been to the sites they selected.
Chinese anime pilgrimage fan and influencer Ruǎn Ruǎn Bīng appeared at the event as a guest to give some insight into the Chinese anime pilgrimage community. "Chinese anime fans love going on pilgrimages," she explained. "It's like seeing the world of the anime come alive."
According to her, a particularly popular pilgrimage spot among Chinese fans is Tanegashima (Kagoshima Prefecture) from the Makoto Shinkai film 5 Centimeters Per Second. "If you're a Chinese anime fan, you probably know about that film. That iconic railroad crossing is not something you'd see at all in China. It's completely Japanese."

The mayors of various towns in Japan also came onstage to discuss the impact of anime tourism on their communities. All of them said that they welcome anime tourism. Takehiro Matsumoto, the mayor of Wako City in Saitama Prefecture, said that he was so excited when he heard that the Saekano: How to Raise a Boring Girlfriend anime would be set in Wako that he watched the entire series and visited all of the locations himself.
The 88 anime pilgrimage concept is modeled on Shikoku's 88 Temple Pilgrimage, Japan's most famous Buddhist pilgrimage route. The Anime Tourism Association was founded in 2016 as a partnership between Kadokawa and various tourism and travel companies. Their aim is to attract tourists, from Japan as well as foreign countries, and bolster regional revitalization projects throughout Japan.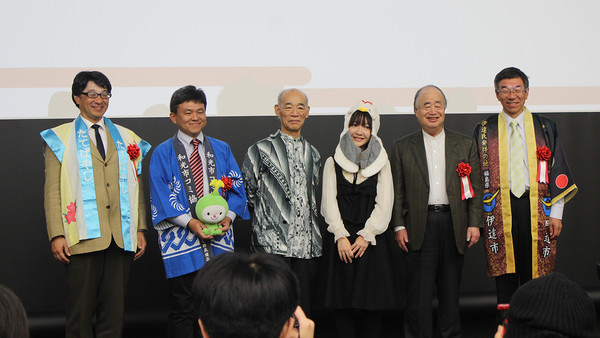 The full list of the 2019 results can be accessed here (link in Japanese).
---