Interest

Kazuhiro Fujita Exhibit Displays Extensive Artwork From Ushio & Tora, Karakuri Circus, More Manga

posted on by Kim Morrissy
An exhibit dedicated to esteemed manga artist Kazuhiro Fujita ran at the Seibu Ikebukuro Department Store from November 12 to 20. The exhibit displayed a timeline of Fujita's 30-year-long career as a manga artist, as well as extensive artwork from four of his major works: Ushio & Tora, Karakuri Circus, Sou-Bou-Tei Kowasu Beshi, and Moonlight Act.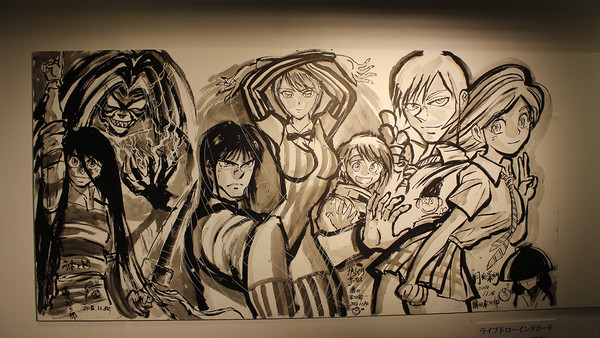 Visitors were allowed to photograph every single piece of art at the exhibit. With over 200 pieces on display, this meant that there was quite a lot of art to share and enjoy. Here's a look at some of the artwork that was shown off at the exhibit:
Introduction
The exhibit opens with a message by Fujita, which reads: "Welcome! Through being absorbed in drawing for 30 years, I managed to give birth to many pictures. I drew every one of these illustrations while under a deadline. So... it's a little embarrassing for me, but I'm happy that you get to see it. My characters share memories with you from various scenes and are looking forward to meeting you all!"
The message is followed by a brief timeline of Fujita's career and color art from the various series that he has worked on.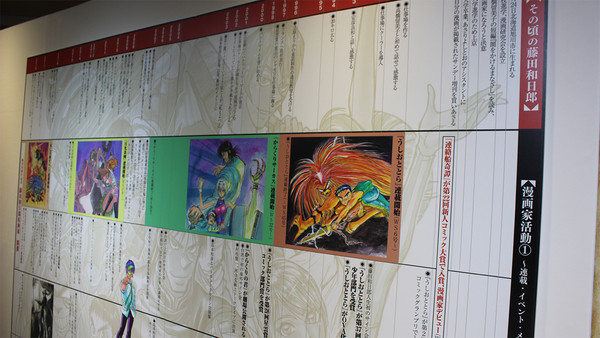 The rest of the exhibit was filled mainly with original black-and-white manga pages, cover illustrations, setting materials, and name (rough manga drafts) from each of the series.
Ushio & Tora
Ushio & Tora ran from 1990 to 1996 in Weekly Shonen Sunday with 33 volumes. The manga was adapted into an original video anime series in 1992 and a television anime that began in July 2015. Sentai Filmworks licensed the television series, and Crunchyroll streamed the series as it aired in Japan.
The story is about a boy named Ushio, who doesn't believe his family's legend of an ancient ancestor impaling a demon on a temple altar stone with the legendary Beast Spear. That is, until he finds the monster in his own basement. To save his friends and family from invading spirits, Ushio is forced to release Tora from his captivity. But it's uncertain to anyone whether the creature is friend or foe.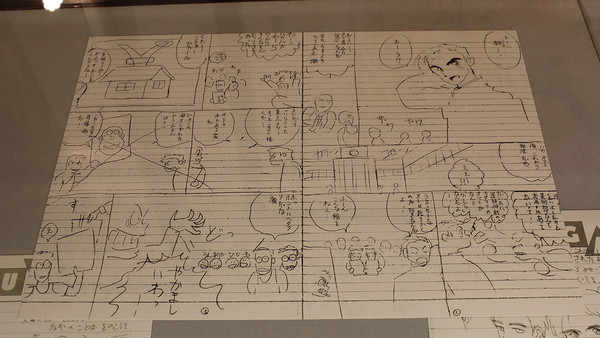 Karakuri Circus
Fujita published Karakuri Circus in Weekly Shonen Sunday from 1997 to 2006, and Shogakukan published 43 volumes for the manga. The anime premiered on Amazon in Japan on October 10, and on television on Tokyo MX on October 11. Amazon Prime is exclusively streaming the anime in Japan and overseas.
The story centers on Masaru Saiga, a fifth-grade boy who aims to become a puppeteer. After Sadayoshi Saiga — the CEO of the giant home telephone maker Saiga, and Masaru's father — passes away, Masaru inherits 18 billion yen. Masaru is targeted for his wealth, and is saved by two people. Narumi Katō is a man who has studied kung-fu and has a weird illness called "Zonapha Syndrome," and Shirogane is a silver-haired woman who controls the puppet "Arurukan" (Harlequin). Together, Masaru, Narumi, and Shirogane get thrown into various conspiracies by those who would try to steal Masaru's fortune.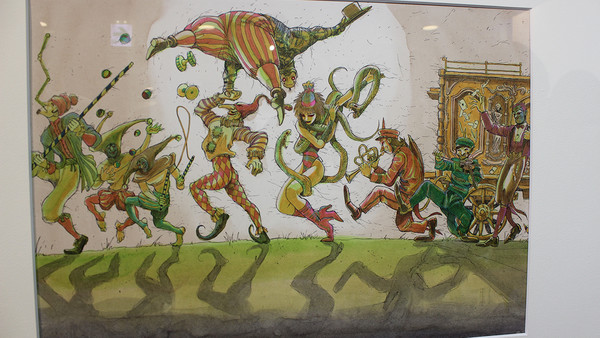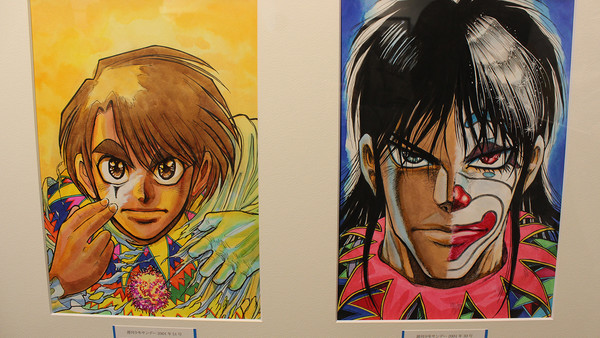 Moonlight Act
Moonlight Act ran from 2008 to 2014 in Weekly Shonen Sunday with 29 volumes. The story is about a high-school student named Gekko Iwasaki, who is struck by moonlight and becomes an executioner of "moonlight regulation" who makes characters escaping from fairy tales return from whence they came.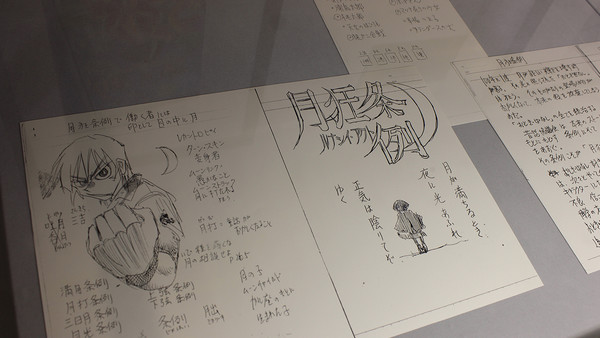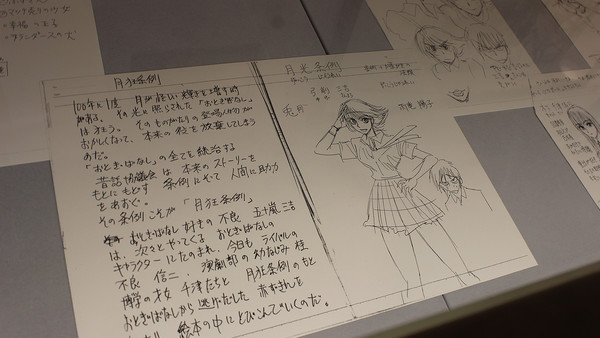 Sou-Bou-Tei Kowasu Beshi
This currently ongoing manga in Weekly Shonen Sunday magazine launched in March 2016, although Fujita has said that the story does not have long to go before it wraps up. The plot centers on the titular Sou-Bou-Tei mansion, which has stood in Tokyo's Numanakarai since the Taisho period, and is widely rumored to be haunted. A boy named Rokurō Tachiki moves into the place, and befriends Tsutomu Takoha, a man living in the apartment next door. When Rokurō's father comes to pay him a visit, he is consumed by a portrait in the house. Horrified and stricken with grief, Rokurō vows revenge on the sentient mansion, and swears to destroy it.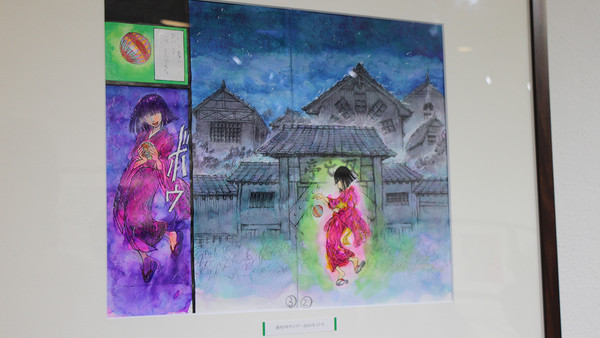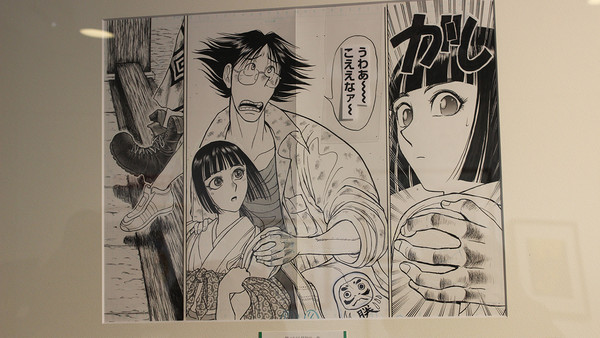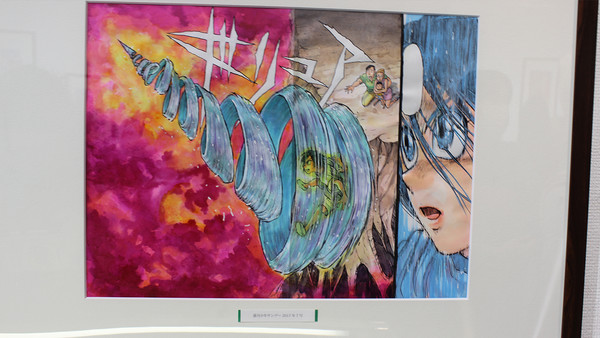 Fujita's interesting stories and striking art have captivated readers for 30 years, and many fans showed up to show their appreciation over the week-long exhibit. Outside the gallery proper was a corner for fans to share their messages of appreciation.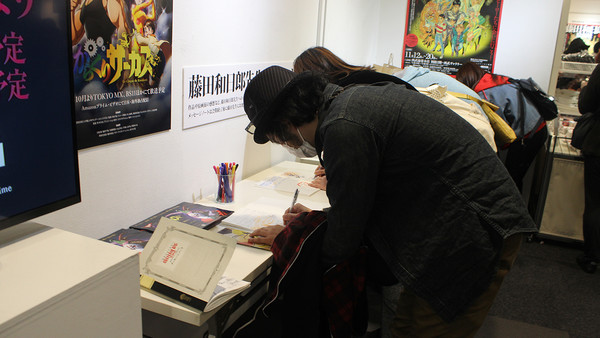 With the currently ongoing Karakuri Circus anime, Fujita's work has become more relevant than ever. Here's to a long and distinguished manga career.
---