×
remind me tomorrow
remind me next week
never remind me
Subscribe to the ANN Newsletter • Wake up every Sunday to a curated list of ANN's most interesting posts of the week.
read more
Interest

Kentaro Yabuki Says Darling in the Franxx Manga Will Have 'Major Divergences' From the Anime

posted on by Kim Morrissy

To Love-Ru and DARLING in the FRANXX manga artist Kentaro Yabuki posted a special message on December 30 on the Shonen Jump+ website, where the DARLING in the FRANXX manga is currently being serialized. He thanked readers for their support for the past year of the manga's serialization, and said that starting from the next issue (chapter 37), the story will begin to have major divergences from the anime.
DARLING in the FRANXX is an original science-fiction television anime by Studio Trigger and A-1 Pictures. It began broadcast in January last year alongside Yabuki's manga adaptation, and concluded its run in July. The manga is still ongoing. Chapter 37 was published on Shonen Jump+ on Sunday, and will be free to read for a limited time.
Yabuki said that so far he has been incorporating gradual changes in the manga version, but that the latest chapter represents a turning point. He describes the direction of the story as "the ultimate what-if route," and said that presenting an alternate story is the reason why the manga version has continued past the conclusion of the anime.

In the same update, Yabuki also revealed sketches of Miku and Kokoro in swimsuits, along with a naked Zero Two wearing a towel (NSFW). This marks the 15th release of Yabuki's DARLING in the FRANXX sketches.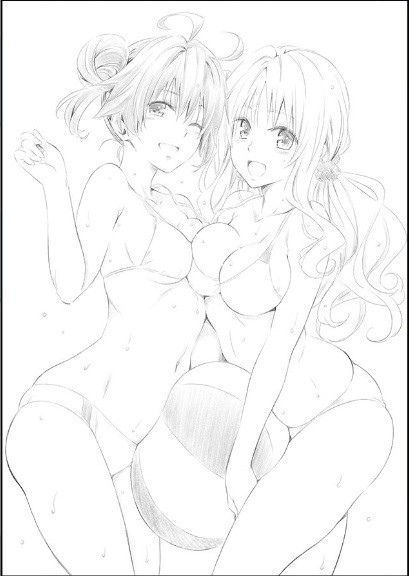 The story of DARLING in the FRANXX is set in the distant future. The land is ruined, and humanity establishes the mobile fort city Garden. Children live there knowing nothing of the outside world or the freedom of the sky. Their enemies are mysterious giant lifeforms known as Klaxosaurs, and the children pilot robots called Franxx to face off against them.
A boy named Hiro is called Code:016, and he was once known as a prodigy. However, he has fallen behind, and his existence seems unnecessary. Not piloting a Franxx is the same as ceasing to exist. One day, a mysterious girl with two horns on her head known as "Zero Two" appears before him.
Kentaro Yabuki launched the manga on January 14. In September last year, he released an art book about the "making of" the DARLING in the FRANXX manga.
---