Interest

Voice Actors Try to Work Out What Director Ikuhara Was Thinking at Sarazanmai Episodes 1-3 Advance Screening

posted on by Kim Morrissy
It's best not to overthink it.
---
An advance screening for the first three episodes of Sarazanmai was held on March 31. It was attended by director Kunihiko Ikuhara and voice actors Ayumu Murase (who plays the protagonist Kazuki Yasaka), Kouki Uchiyama (Toi Kuji), Junichi Suwabe (Keppi), Mamoru Miyano (Reo Niiboshi), and Yoshimasa Hosoya (Mabu Akutsu). Actor and tarento Ryo Kato (who plays the zombie) also appeared as a special guest.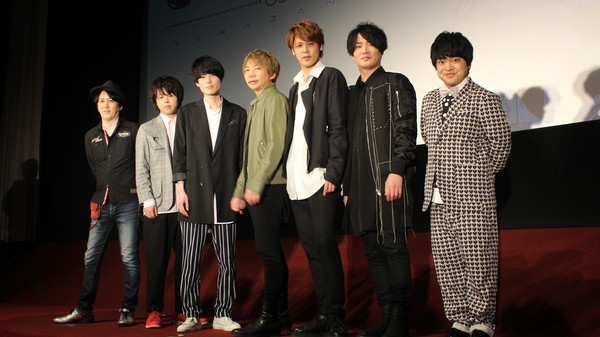 After introducing their characters and the basic plot and themes of the anime, the actors got into teams and played a game: trying to work out what director Ikuhara thinks. For example, what does Ikuhara think of when you say Asakusa? (Asakusa is the setting of the anime and is the part of Tokyo that retains most of the city's culture and landmarks from the Edo period.)
One team guessed dojo nabe, which is a hot pot dish with pond loach in it. This is a specialty food of Asakusa. Another team guessed Beat Takeshi, a Japanese comedian and television personality who was born and raised in Asakusa. A third team guessed the Kappabashi kitchenware district, home to over 170 kitchenware shops in Asakusa. As it turns out, however, Ikuhara thinks of monjayaki, another specialty food of Asakusa.
Next, the voice actors were asked: "What is Ikuhara's favorite scene from the first three episodes?" The voice actors debated this question with each other because there was one really obvious answer that was surely too obvious. Some of the voice actors guessed different scenes. But no, it's best not to overthink matters, because Ikuhara's favorite part was indeed that scene. ANN was asked not to write spoilers in this event report, but those of you who have seen the first three episodes may have an idea what this part would be.
The winning team was Mamoru Miyano and Yoshimasa Hosoya, the buddy cop duo. They received two balls with the kanji for "butt" written on them. A person in a kappa costume also showed up for the photo session.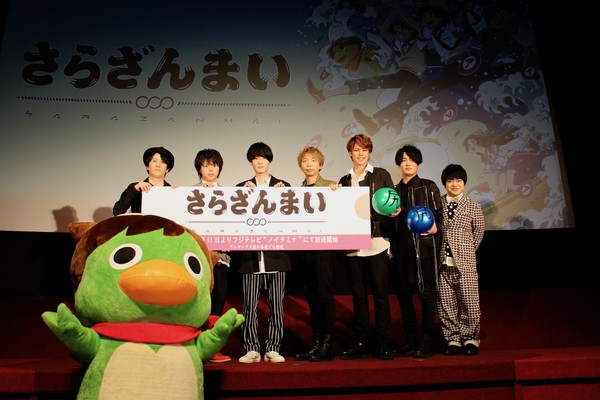 This isn't the first time the voice actors have been quizzed on their knowledge of Asakusa. At an earlier stage show at AnimeJapan, the voice actors were introduced to the Kaminarimon Gate, which has statues of the gods of wind and thunder placed on either side of it. They were also informed that the Asakusa Chika Shotengai is Japan's oldest shopping street. As the historic capital of Tokyo, Asakusa is a popular tourist spot, but Sarazanmai is praised for bringing out the "real" Asakusa.
The Sarazanmai anime series premiered on April 11. Kunihiko Ikuhara (Revolutionary Girl Utena, Penguindrum) is directing the series at Lapin Track (Yuri Kuma Arashi) along with scriptwriter Teruko Utsumi. MAPPA is co-producing the animation.
---