Interest

Shonen Champion Launches 3 Crowdfunds for Baki, Yowamushi Pedal, The Vampire Dies in No Time

posted on by Lynzee Loveridge
All three campaigns will realize manga creator's "dream projects" for fan appreciation event
---

Publisher Akita Shoten's Weekly Shonen Champion magazine is celebrating its 50th anniversary with a "Dream Project" crowdfund campaign. The project isn't aiming to fund just one project, but a trio based on the Yowamushi Pedal, Baki-dou, and Kyūketsuki Sugu Shinu (The Vampire Dies in No Time) manga series.
The Yowamushi Pedal crowdfund is looking to raise 2,300,000 yen to create a giant balloon of character Akira Midōsuji. Staff will display the balloon at the entrance of the fan appreciation event venue on July 15.
Supporters who donate 5,000 yen will receive an e-mail with illustrations attached, their name posted at the event venue, and an assortment of personalized items. Campaign supporters who donate at least 10,000 yen will receive the same items and one of five randomly selected manuscript copies. Additional rewards included autographs by manga creator Wataru Watanabe but have the reward tier has already sold out. So far the campaign has raised 1,925,500 yen as of this writing.
The Baki-dou campaign is hoping to raise 1,500,000 yen to create an "ultra-realistic" diorama of Baki Hanma's house after it was vandalized.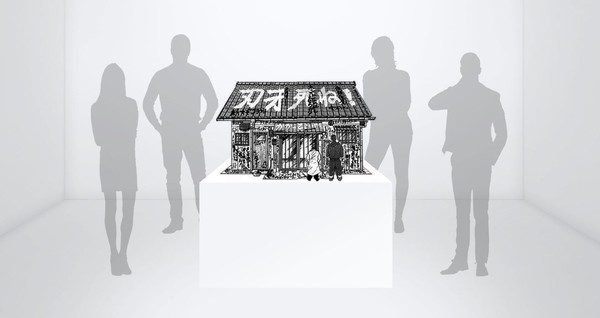 The reward tiers mirror the Yowamushi Pedal campaign with some unique bonuses for higher backers. Backers that donate 50,000 yen will be able to visit Keisuke Itagaki's work space and backers that donate 200,000 yen can put their own stickers on the diorama and for 500,000 one backer and buy the diorama for themselves. The rewards that included autographs and portraits by Itagaki are sold out. The campaign has raised 293,000 yen as of this writing.
The third campaign is aiming to make a giant stuffed plush of John the armadillo from Itaru Bonnoki's The Vampire Dies in No Time manga. Staff plan to display the armadillo as a photo prop during the magazine's 50th anniversary event. The plush will be lying on its back so attendees can climb on his soft belly for a picture.

The campaign has already met its goal of 2,000,000 yen and has raised 3,093,800 yen so far. Remaining rewards include the same bundles of manuscripts, thank you illustrations, and name recognition as the other campaigns. Signed artwork and the option to tour Akita Shoten's headquarters are sold out.
Yowamushi Pedal and Baki-dou have both inspired anime adaptations. Yowamushi Pedal inspired four television anime and multiple compilation films from 2013 to 2018 and Crunchyroll streamed the anime seasons as they aired in Japan and Yen Press is releasing the manga series. The Baki-dou manga is not available in English but its anime series premiered on and are streaming exclusively on Netflix with a second season in the works.
The Vampire Dies in No Time manga is not currently available in English. Bonnoki launched the series in Weekly Shonen Champion in 2015 and it currently has 12 volumes.
Source: Comic Natalie
---
this article has been modified since it was originally posted; see change history