Interest

Georgia Art Student Valery Yu Wins Celsys' 1st International Comic/Manga School Contest

posted on by Lynzee Loveridge
Celsys announced the winners of its first ever international comic and manga school contest. The contest challenged art students around the world to compete for a chance to win prize money, Wacom devices, CLIP STUDIO PAINT software, and a chance for their winning artwork to be featured in Japanese media.
This year's grand prize winner is Valery Yu of Savannah College of Art and Design in Georgia. Yu's submission was "HAND SHOP - Gift come with price." Judge Cameron Stewart described the work as "both beautiful and creepy" with a "highly unique concept for a story."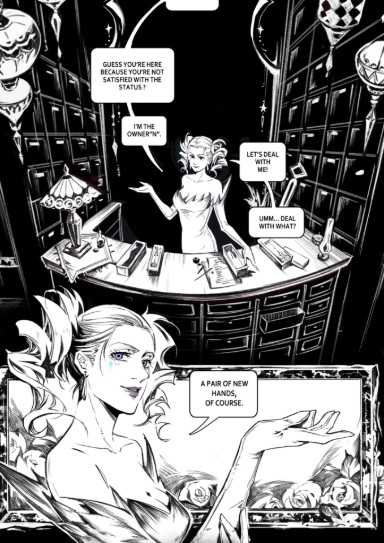 The whole submission can be read here.
The contest's Silver Prizes went to the National Taiwan University of Arts' Emory for "My Dear Cosmos" and Savannah College of Art and Design's Blacklimes for "HeARTfelt."
The Bronze Prize Comic category winners include entries from Ireland, Iran, Singapore, Spain, and Russia. Canada's Shasa won the grand prize for the illustration "Big hands, little hands."
Competitors could enter the comic or illustration categories. Submissions needed to center on the contest's "gift" theme. Submissions were evaluated by the contest's panel of judges. The participating judges included Cameron Stewart (DC Comic's Batgirl, Fight Club 2), Javier Fernández (Batman), Ken Niimura (I Kill Giants), and Yoshiyasu Tamura (Devil's Relics).
Ken Niimura said the following about judging the entries for this contest:
The level this year was really high, both in the illustration and comic section. The variety of graphic styles and approaches is a proof of how many different shapes comics can take nowadays - from paper comics to webcomics, black and white, color or limited color palette, of all possible styles. Comics and illustration are a form of expression with unlimited freedom, and the works in competition are a good celebration of that.
Celsys will hold this contest again next year on a larger scale, aiming to support talented students around the world to create comics.
Source: Celsys International Comic/Manga School Contest website
---