×
remind me tomorrow
remind me next week
never remind me
Subscribe to the new ANN Newsletter • Wake up every Sunday to a curated list of ANN's most interesting posts of the week.
read more
Interest

Fate/Grand Order Characters Rayshift to Past Arima Kinen Horse Races

posted on by Kim Morrissy
---

In the Fate/Grand Order smartphone game and anime series, Rayshifts allow the characters to time travel by projecting their spirits into the past. In a new collab between the Fate series and the Japan Racing Association (JRA), the main cast of Fate/Grand Order Absolute Demonic Front: Babylonia has traveled back in time to comment on past Arima Kinen races.
The JRA opened an interactive website on Thursday as a tie-in with the Fate/Grand Order TV anime, called "Fate/GrandprixOrder Zettai Keiba Sensen: Arimania" (Fate/GrandprixOrder Absolute Horse Racing Front: Arimania). Visitors can "Rayshift" up to three times per day to a randomly selected Arima Kinen race. After playing the Rayshift preparation footage from the anime, real footage from the historical race will be shown with added commentary from one of eight characters from the anime: Ushiwakamaru, Merlin, Gilgamesh, Enkidu, Romani, Ana, Ishtar, or Quetzelcoatl.
Once you receive your result, you'll get an explanation about the race and the option to share the result on Twitter. Doing so will enter you into a draw to win one of six prizes: The A Prize is a signed poster of the collab's key visual, plus a set of prizes B-F. The B Prize is a set of five QUO cards with the character art, worth 5,000 yen each. The C Prize is a smartphone case, the D Prize is a set of five acrylic stands, the E Prize is a set of five badges, and the F Prize is a clear file. 166 prizes will be given out in total. Once you've accessed every Rayshift, you'll get a free wallpaper to download.

The giveaways don't end there. If you follow the JRA's Twitter account retweet this tweet between December 5 to 22, you'll enter a draw for a set of five QUO cards. You'll also have a chance to win a QUO card worth 500 yen if you go to the Nakayama Racecourse on December 15 and enter the "Today's Chance" draw.
The JRA released a video narrated by Gilgamesh's voice actor Tomozaku Seki to promote the campaign:
On December 7, 8, 14, and 15, a panel showing the Fate/Grand Order Absolute Demonic Front: Babylonia characters will be displayed at the Benjamin Plaza in the B1F of Nakayama Racecourse.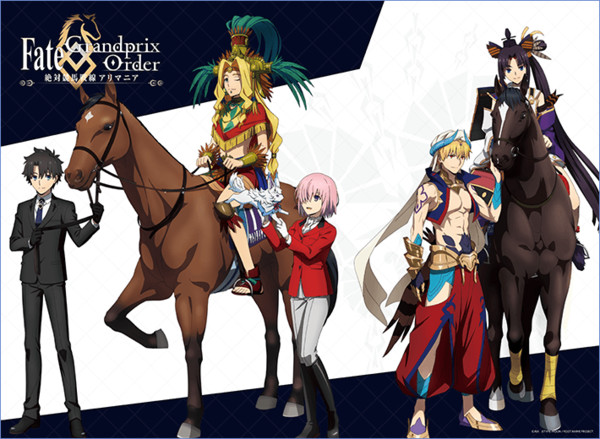 Last year, the Fate/stay night: Heaven's Feel II. lost butterfly film collaborated with the JRA to create an 8-Bit side scrolling game allowing you to play as Rider on a horse.
The Fate/Grand Order Absolute Demonic Front: Babylonia anime premiered in Japan on October 5. The series will air for 21 episodes until March 2020.
Sources: Moca-News, Mainichi Shimbun's Mantan-Web
---