×
remind me tomorrow
remind me next week
never remind me
Subscribe to the ANN Newsletter • Wake up every Sunday to a curated list of ANN's most interesting posts of the week.
read more
Interview: Aya Kanno
by Rebecca Silverman,

Aya Kanno
is the successful mangaka behind the gender stereotype-skewering hit
Otomen
, which concluded its run a few years ago. She's back now with
Requiem of the Rose King
, a big shojo-flavored melting pot that mashes up several parts of Shakespeare's Henry the Sixth with Richard the Third; its first volume hit American shelves this past April. We had the chance to ask her a few questions during her appearance at the Toronto Comic Arts Festival this month.
Photos © 2014 AYA KANNO / AKITASHOTEN
ANN: You write a lot of manga about wartime – the British War of the Roses, the Shinsengumi, and the fictional war-torn world of Blank Slate. What is it that draws you to that sort of setting?
AYA KANNO: I always feel that I want to fight against something (not with force of arms). I think I express the feeling with Wars in some part through my manga.

What made you decide to write a shoujo manga based on four of Shakespeare's history plays? (Henry VI parts 1, 2 and 3, Richard III)
I've always thought Shakespeare's dramatic, romantic and exquisite atmosphere matches perfectly to the Shojo manga style. The reason why I used the Henry VI trilogy and Richard III is because I came up with an idea of the setting of Richard in Requiem of the Rose King.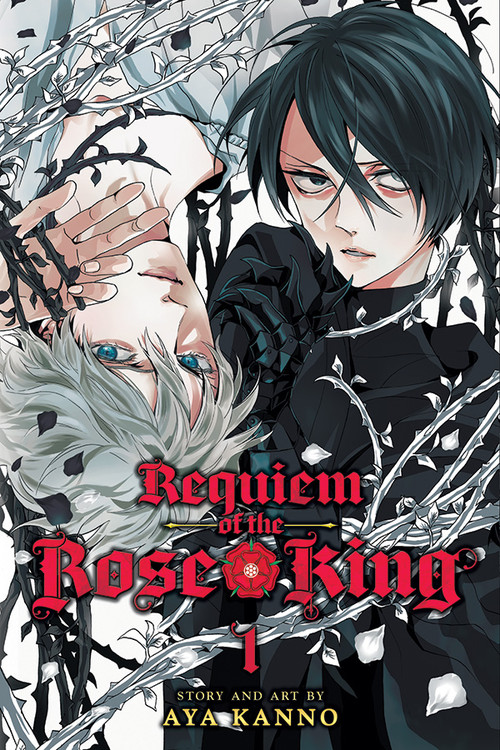 History and Shakespeare tell us that Richard III had a spinal deformation. What made you decide to portray him as a hermaphrodite instead?
I thought of the portrait of this Richard because the body of androgynos in Greek myth is represented with a body as a sphere, and my Richard's cleverness overlapped with Shakespeare's Richard III in my head.

How did you feel when Richard III's body was discovered in 2012? Were you already working on Requiem of the Rose King at the time?
It felt like fate! Richard III's body was discovered just when the serialization for REQUIEM OF THE ROSE KING was about to start [in Japan].

Both Requiem of the Rose King and Otomen deal with gender identity. Is that a topic that interests you?
I am strongly skeptical and opposed to the general definition of ordinary morals that provided. Gender identity is one of those.

While Otomen is a comedy, do you think that it still has something to say about what are considered "male" and "female" interests by society?
Of course, yes.



Otomen is much lighter than most of your other series. What made you decide to write a comedy?
I've always liked comedy as much as I like serious stories, but I'd never drawn comedy to publish. After drawing few serious stories, I wanted to draw a series open to more readers.

Part of the humor in Otomen comes from "Love Chick," itself a parody of shoujo romance. What do you think is funniest about the genre?
I feel awkward and somehow funny when the stereotype renderings, such as the scene of heartbeats quickening at the first encounter, go too far. At the same time, my heart warms when I see these scenes (laugh).

 Would you ever want to write a story like "Love Chick" seriously?
It probably won't be like a "Love Chick", but I want to write a straight Shojo manga someday.

While several of your series have been published in English (Otomen, Requiem of the Rose King, Blank Slate, and Soul Rescue), others have not. Which of your other works would you like to see get an English edition?
It might be difficult, but I like Hokusō Shinsengumi and Hitori-tachi. I want many people to read these titles!

How do you feel about digital editions of your manga?
Those can be read on-the-go, so I think it's good.

Do you have anything you'd like your English-speaking readers to know?
Thank you so much for reading my works. I'm working on more titles, so please look forward to and support them!
---
discuss this in the forum (12 posts)
|