×
remind me tomorrow
remind me next week
never remind me
Subscribe to the ANN Newsletter • Wake up every Sunday to a curated list of ANN's most interesting posts of the week.
read more
Interview: The Pilot's Love Song director Toshimasa Suzuki
by Zac Bertschy,

Toshimasa Suzuki is the director of The Pilot's Love Song, an adventure set against the striking colors of the sky. Originally released in 2014, the show is available now on bluray from NISA. Suzuki, a talented storyboard artist on shows like Stellvia and Fafner, is chiefly known for the shows he's directed, including Lagrange – The Flower of Rin-ne, Dance in the Vampire Bund and Heroic Age. We took your questions for Toshimasa Suzuki a few months back in anticipation of the release of The Pilot's Love Song.
From anonymous: The backgrounds in this series are gorgeous; what kind of challenges were there in adapting a series in which a large portion of the story occurs with the sky as a backdrop?
Toshimasa Suzuki: Most of the story takes place on the flying island, Isla. We took into consideration that the sky is being seen from Isla as it is soaring at an altitude of 2,000 meters, so we mixed in purple to make the sky a deeper blue than you would normally see. Furthermore, it was difficult to create the Holy Spring.  A massive amount of sea water being shot up from the horizon is a phenomenon that we've never seen before. We used CG to capture the enormity of its scale.
From Alexander Schmitz: There's a character death in the later part of the series that really showed what the story was capable of achieving. How did you go about directing that sequence to give it such tension and emotional impact?
Kal-el's friends died in battle. We wanted to make sure each death had meaning attached to them. For Mitsuo Fukuhara, by carefully illustrating his love for his friends, his feelings for Chiharu de Lucia, and his thoughts on war, we wanted to communicate the magnitude of his sacrifice. In contrast, Fausto Fidel Melze and Wolfgang Baumann showed the coldness of war, and how a life can be snuffed out in a moment, in a very impartial manner.
From Alexander Schmitz: Vehicles and machines are often created using CG in modern anime, and The Pilot's Love Song featured many CG sequences featuring aerial combat. What are the advantages and disadvantages of traditional animation versus CG in that context?
2D animation is superior when expressing exaggerated characters and machines. In contrast, it's hard to use it to depict realistic objects. Since we wanted the war planes to be realistic, we made those using 3D. In addition, we added 3D effects to battle scenes in which there were several similar types planes engaged in combat.
From Zensunni: I really enjoyed "The Pilot's Love Song," including the ending, which left many things unresolved yet seemed an appropriate place to stop the series. However, I have often thought that it would be nice to see more of the story. Are there any plans, or even hopes, to make a sequel TV series, OVA, or movie?
We followed the original work for the anime's ending. We did consider depicting a more resolved conclusion to the story, but we arrived at this ending because we thought that we could wrap up the story neatly if we left things up to the audience's imagination. At the moment there are no talks of making a movie adaptation, but we do hope for such an opportunity.
From Kaname Fujiwara: Why is Kal-el starting another war for Claire at the ending? I mean, I know he loves her, but to start a war over this?
Kal-el only has one wish: to go where the Sky Clan is to bring back Claire. He organized a large fleet as a deterrent to avoid military engagement/conflict.
From Noura Omran: Do you think Kal-el and Claire will be reunited in the future?
They both make an appearance in the next installment. Perhaps they are reunited again. It's something to look forward to.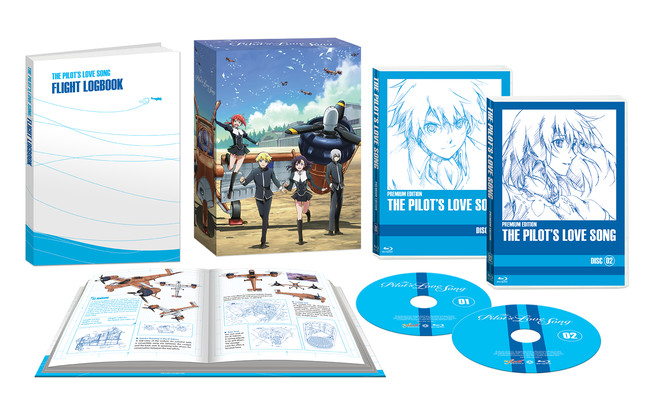 From Noura Omran: Was Kal-el aware of Ariel's feelings for him?

When it comes to love, Kal-el can be a bit oblivious, so I don't think he knew.
From Noura Omran: I thought there might be a chance for Kal-el and Ariel to be together since they were so close and sometimes acted like a couple. Had Claire never entered Kal-el's life, was there a chance he would have fallen for Ariel?

It was important that Ariel be family to Kal-el. In a way, that is a deeper bond than that of a lover. So, unfortunately, they won't ever become a couple.
From Miguel Garcia: "The Pilot's Love Song" is a huge Light Novel with several plot lines occurring simultaneously within the same setting. We've already seen two of them; are there any plans for an anime project which adapts all of them?
The newest installment in the series, "Toaru Hikuushi e no Seiyaku" (Oath to a Certain Pilot), is currently being written. At this stage of the writing process, the narrative is right at its climax. I hope that it gets an anime adaptation, and I believe the fans' support will play a big role in helping us get there
From anonymous: Kal-el is, famously, Superman's alien name. It isn't a common fictional name at all and has never been used outside of Superman; why was the lead character given Superman's alien name?
I never knew that. Spain is used as a reference for the Balsteros Empire, and I believe the idea for his name was derived from that. I'd like to ask Mr. Inumura, the author of the original work, about it.
"The Pilot's Love Song" is a young-adult drama, war story, and adventure tale that takes place in an unknown world. It is a work that appeals to many different tastes. Please watch and enjoy it.
---
discuss this in the forum (4 posts)
|
this article has been modified since it was originally posted; see change history