×
remind me tomorrow
remind me next week
never remind me
Subscribe to the ANN Newsletter • Wake up every Sunday to a curated list of ANN's most interesting posts of the week.
read more
Interview: Director Keiichi Hara on Miss Hokusai
by Justin Sevakis,

Miss Hokusai (originally titled Sarusuberi), the new feature film from Production I.G, is the story of O-Ei, the young adult daughter of famous painter Hokusai and a hugely talented artist in her own right. The film cuts a cross section of her daily life in bustling 1800s Edo (now modern day Tokyo), as she navigates her complicated family life, her crushes, and her struggles as an artist.

Director Keiichi Hara begain his career in the early 1980s, working on children's anime like Doraemon, ESPer Mami and other Fujiko Fujio anime adaptations. In 1992 he began working on Crayon Shin-chan, and for 12 years served as director, storyboard artist and writer on both the TV and movie projects. As Shin-chan got more artistically ambitious ("The Adult Empire Strikes Back" being a creative touchstone for the franchise), Hara got the opportunity to become one of a handful of auteur anime directors that can write and direct their own original feature films.

Summer Days with Coo came out in 2007 and was quite successful, and Hara followed it up with the art house teen suicide drama Colorful in 2010. Both films garnered critical acclaim and several major awards both in Japan and around the world. After taking a break from anime to direct his first live action film -- Hajimari no Michi -- Hara returned last year with Miss Hokusai. The film continues his streak of critical success, having won the Jury Award at the Annecy Film Festical, three awards at Fantasia International Film Festival, the Asiagraph 2015 Tsumugi Prize, and Best Animated Film at the Mainichi Film Awards. It's currently in limited theatrical release in North America, and was recently released on home video in the UK.

Hara sat down with Anime News Network to talk about the film, the manga it adapted, and his passion for the film's subject matter, the enigmatic Edo painter named O-Ei.
---
The original Sarusuberi manga was published many years ago. How did the opportunity come about to animate it? What were your initial impressions of the manga?
I discovered Sugiura's work when I was in my late 20s, and I always thought her manga were very cinematic. Adapting her work into animation has been my dream ever since. Then, a few years ago, I happened to be between projects, and I had this meeting with [President & CEO Mitsuhisa] Ishikawa of Production I.G. I went there with the intention of proposing he make an animation based on Sugiura's work, but to my greatest surprise, he told me that the studio had been contemplating the idea of making a film out of Sarusuberi, and asked me whether I was interested. Sarusuberi is my favourite among Sugiura's works. I love its seamless transitions between the mundane and the supernatural, and the masterful depiction of human emotions and interaction among characters. Of course I didn't say no.
Most manga artists whose works are animated are still alive, but Hinako Sugiura passed away over a decade ago. With the original creator gone, how did this change the normal course of production?
I approached this project with great enthusiasm, but as the production went on I started feeling overwhelmed by the great pressure this task was imposing on me. I felt that if I followed the comic book too literally, there was no need for me to be a director. At the same time, I hesitated on any change, as I was afraid my interpretation could betray Sugiura's original intentions. My greatest respect for the source material turned into my worst enemy in making this film, and I was unable to consult with the author about my choices. It was a long and painful struggle.
The most striking thing visually about Miss Hokusai is its very specific portrayal of everyday life in Edo — it's a very lively depiction of normal people going about daily life — a very unique thing in historical films. How did you go about imagining what this felt like? What sort of research was involved?
Sugiura was an expert of the lifestyle during the Edo period, and I don't know how many times I wished she could be with us and guide us through that maze. We read dozens of books, searched old prints and the very early photographs taken after the opening of Japan [circa 1853], and visited open-air museums and isolated localities were heritage building were still standing, as there's nothing of Edo left in Tokyo. But ultimately, the comic book provided most answers to our questions.

O-Ei seems like she would fit in well in 21st century society. She's brash, individualistic, and talks like a thug. How much of her actual personality is really known? What do you hope that modern audiences relate to in her? Do you think you would be friends with her?
Records on historical O-Ei are extremely limited and rather anecdotal in nature, and what you see in the film is based on Sugiura's personal interpretation, which indeed cleverly incorporates the sparse knowledge we have. I trusted her [depiction of] feminine sensitiveness, and I took that from her, although I developed it a bit further. O-Ei takes her job terribly seriously, she is utterly defensive against those who do not take her seriously, she has a troubled family situation, and she nurtures an unspoken love. But she goes her way with great determination, looking for her own style. She's not different from many of today's 23-year-olds. Keiko Matsushita, the young woman who produced this film, once said she hoped O-Ei could inspire young women who have just started taking their first steps into their professional career. I trust her words would sound more convincing than mine.
I would definitely love to take out O-Ei for a drink!
The major details of O-Ei's life aren't given particular importance — they're a postscript at the end of the film. Can you talk a little bit about your decision to emphasize daily life over the sort of major events that most films would be about?
I never intended to make a biopic – the original source isn't a biography. What you see in the film is a sequence of moments in the life of a bunch of very eccentric people, unfolding against the backdrop of the four seasons. It's an impressionist painting set against photographic realism, if you allow me the comparison. Sugiura's choice of the time setting is not accidental: O-Ei and Zenjiro are both struggling with their skills. Although O-Ei was almost forgotten in modern times, her contemporaries were well aware of her talent. And Zenjiro was to become one of the most representative and influential artists of the late Edo period, under the art name Keisai Eisen. Even Hokusai has not yet produced two of the works that made him really famous, namely Hokusai Manga and the Thirty-six Views of Mount Fuji. When Sugiura started writing Sarusuberi she was at the beginning of her career, and I'd like to believe she sent herself back to the Edo period as O-Ei. But Sugiura also deliberately chose to tell her stories from a very low angle, bringing a legendary artist back to a very human and often unflattering dimension. Her stories hardly follow conventional narrative structures. Still, they are able to convey a complex world of subtle emotions through her unique and understated storytelling. I would dare to describe this approach as very Edo-style.
Hokusai and O-Ei live in a small home and spend all their time drawing. They don't seem to take care of themselves very well, and sacrifice everything for their art. I feel like many artists I knew in my 20s did the same. Has much changed for artists since that time, or has life stayed hard for an artist? As an artist yourself, what do you find appealing in O-Ei's story?
While we were researching about the Edo period and the ukiyo-e industry, many people in the staff discovered striking similarities with the modern-day anime industry, including the production process itself: the teamwork among very specialized departments, the concept of mass-produced visual art, and the role of the publisher, who picked the subject, selected the staff, and took care of the marketing, like animation producers today. I'm not sure whether this is answering your question, but many people over here found everything very familiar, and I'm sure they strongly related with that world. Having said that, studio rooms at Production I.G are very clean.
O-Ei happened to be the daughter of a genius, who was also, as is often the case, a rather difficult man. She was also a remarkably gifted artist. Did this mean happiness for her? If you look at her paintings, and we included one of them in the ending credits of the film, they are all astoundingly beautiful, in terms of concept and execution. Still, there are so few of them. How is this possible? Is she a symbol of unrecognized talent, or was her choice a deliberate one? Or was everything lost in one of the many fires that burned Edo/Tokyo? We will probably never know the truth about this woman, but everything about her is so intriguing: from her unique artistic career, to the strong-minded and offbeat personality that emerges from the few records we have about her. I mean, she reportedly derided her husband because he was a poor artist. She's a character most scriptwriter would hardly come up with. She defied conventions and followed her daemon throughout her life. As a filmmaker, I could not possibly be uninterested in having her starring in a film.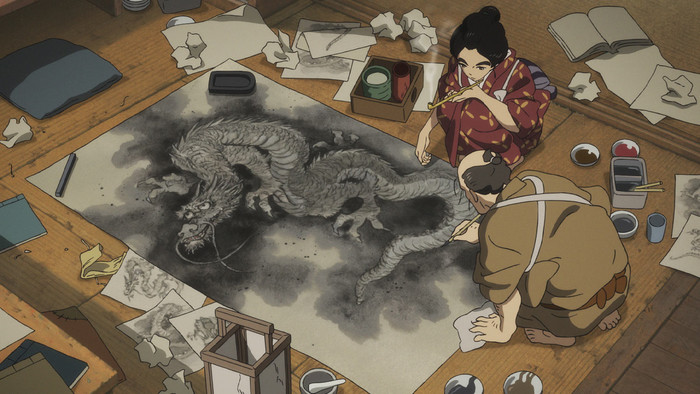 The film uses a musical score as modern and as non-traditional as O-Ei herself. Can you tell us a little bit about how you decided on such an unusual score?
I happened to learn from Sugiura's family that she used to listen to British and American rock music from the 70s while she was drawing her Edo period manga. I thought it was a very unusual yet intriguing association, and it fit perfectly into O-Ei's character, so I decided to bring this element into the film. Having O-Ei walking the streets of early 19th century Edo at the sound of electric guitar was also a way to warn the audience that this is not your typical period drama.
Many famous artworks are depicted in the film, some of which are brought to life in very dramatic ways. What special challenges did animating these paintings present? Were they fun to work on, or just difficult?
I came up with the idea of including a fully animated rendition of the iconic Great Wave off Kanagawa while I was working on the storyboard. As a director, it was a very irresponsible decision. I simply decided it had to be in the film. The fun part had to be done by the animators. Luckily, for the wave sequence we could rely on one of the best, namely Norio Matsumoto. But he had to redo all the drawings twice. I suspect he may not be particularly fond of me now. But I am very grateful for his work.
You previously worked with Miho Maruo on Colorful, which is also a film with a very delicate depiction of very realistic people. How do you two normally work together? What made this experience different from Colorful?
Maruo is my partner in life, and my most trusted scriptwriter. When we work together there's not much need for meetings or consultations. Once I have decided the overall film structure, I hand everything to her, and I know it will be all right. When we needed to add some original parts that were not in the source material, she wrote the snow sequence, which is simply beautiful. We went through this magic experience of adapting Sugiura's work into motion pictures together.
I very much love the dog. What made you decide to include him? He seems more important than is immediately obvious.
Sugiura loved dogs, and so do Maruo and I. In the original comic, there's a dog that randomly pops up around Hokusai's house with no apparent reason. It's like the camera is rolling, and this little dog just happens to be caught inside the frame. So I decided to have it star in the film, and I used it as a device to indicate the time progression, as it grows from a puppy into an adult dog.
The film includes mostly live action actors in the main roles, rather than traditional seiyuu. How did you cast the parts? What unique qualities did Anne Higashide bring to O-Ei?
I usually prefer to use live action actors. I did so in Colorful, too. I recall I was very impressed with Anne's acting in a TV drama I watched before being involved in this project, and I immediately associated her with O-Ei when it was time to decide the cast. She was my first choice from day one. Luckily, when we contacted her we discovered she was a great fan of Sugiura's work, and she loved Sarusuberi, so everything went quite smoothly. She performed O-Ei in every subtle nuance of her personality, going beyond my best expectations. She is a charming and amazing woman.
Did anything surprise you about how the film was received? Were you concerned that foreign audiences would have trouble connecting to it?
I wouldn't say I was really concerned. I believe the emotions depicted in Miss Hokusai are not specific to the place or period this film is set in, but are relatable to anyone. This is one of the themes of this film, and the reason why movies have the power to cross borders.
What do you hope American filmgoers take from the story of O-Ei?
I think there's something more than success stories and happy endings out there. I like movies that stay with you while depicting bitterness and hardship. Those are the feelings we all experience, and try to overcome while we live our life. Those are the stories that made me grow as a filmmaker. I hope this movie will trigger something in your heart, and stay with you for a little while.
---
discuss this in the forum (2 posts)
|
this article has been modified since it was originally posted; see change history