×
remind me tomorrow
remind me next week
never remind me
Subscribe to the ANN Newsletter • Wake up every Sunday to a curated list of ANN's most interesting posts of the week.
read more
Interview: The Producer and Director of Mary and The Witch's Flower
by Zac Bertschy,

Mary and The Witch's Flower is the first theatrical feature from Studio Ponoc, a brand-new animation house brimming with former Studio Ghibli luminaries (and a whole lot of the artists responsible for making Ghibli films as beautiful as they are). Founded by producer Yoshiaki Nishimura, who helped bring both When Marnie Was There and The Tale of the Princess Kaguya to the screen, Ponoc's first film is a lavish fantasy based on the 1971 children's novel The Little Broomstick by Mary Stewart, directed by The Secret World of Arrietty's Hiromasa Yonebayashi. The result feels like a declaration of intent: Studio Ghibli might not be cranking out big lush fantasy spectacles for the whole family much anymore, but Studio Ponoc is here to pick up that torch and run with it.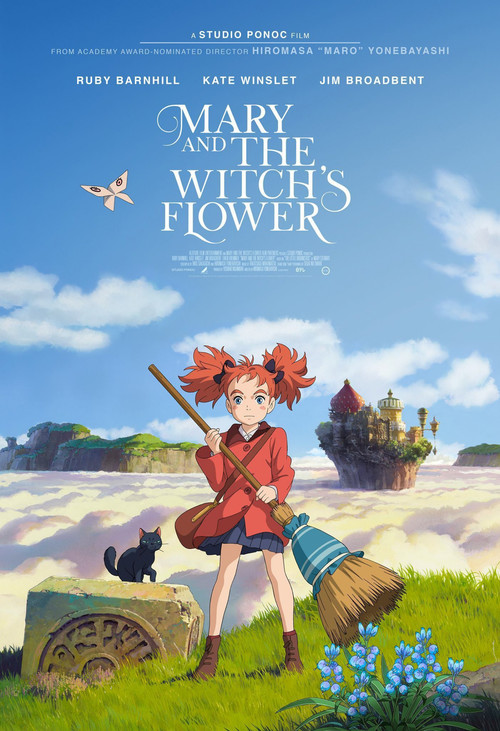 We had the chance to ask Producer Nishimura and Director Yonebayashi a few questions about their experience on this film, how it compared to their days under the thumb of Hayao Miyazaki and what's next for their blossoming new studio. You can see Mary and The Witch's Flower for yourself beginning January 18th in theaters across the US.
Zac Bertschy, ANN: So what inspired you to adapt "The Little Broomstick" into an animated film? What properties did it have that made it the right project?
Producer Yoshiaki Nishimura: Well, there are three reasons: first, after we left Studio Ghibli and founded Studio Ponoc, we wanted to have an energetic main character and a fantasy setting. The last film Yonebayashi-san directed at Studio Ghibli – When Marnie Was There – was a very quiet film about the internal thoughts and emotions of a girl. But Director Yonebayashi's speciality is actually dynamic action, which he learned as an animator under director Hayao Miyazaki, something he developed into a real talent. I thought "which motif will allow the kind of fantasy setting we're looking for?" I read a lot of young adult literature and fantasy looking for stories, and almost all of these stories involving magic feature characters using magic to solve difficult problems, but in this book – in "The Little Broomstick" – the main character, Mary, says "I'm going to open this door but I won't use magic – no matter how much time it'll take, I'll do it on my own, without magic" and I thought "this should be the heroine we use for our film".
The second reason is, this theme of not using magic to solve a problem  - it fit into the situation that I and Yonebayashi-san and others at Studio Ghibli faced: we were now no longer under the "magic umbrella" of Studio Ghibli and needed to complete a film on our own. So the feeling that we needed to stand on our own two feet was part of it.
Lastly, there is one other motif in "The Little Broomstick" – the magic flower, the fly-by-night. This is the flower that gives magic ability to normal humans. We treated this as Prometheus' Fire – something that humans shouldn't really have, something that wreaks destruction if they get too close to it. That relates to the challenges we face in this present day, in our own lives.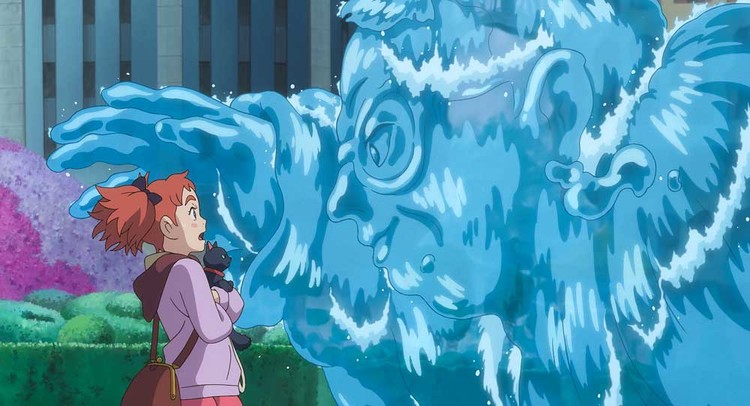 Studio Khara and Hideaki Anno are thanked in the credits for this film. Can you tell us a little about Studio Khara's relationship with Studio Ponoc? How well do you know Hideaki Anno?
Nishimura: Studio Khara and Studio Ponoc don't have much business with eachother – it's a personal friendship between myself and Hideaki Anno.
Studio Ponoc has on staff a huge number of extraordinarily talented background artists from Studio Ghibli in its employ – can you tell us a little bit about how you managed to put that team together?
Nishimura: While I was at Ghibli, I was fortunate enough to be producer for both Tale of the Princess Kaguya and When Marnie Was There, both films nominated for Academy Awards. I was also able to attend many international festivals with these films. What I heard was that many people – both in Japan and abroad – was that "Studio Ghibli films are very beautiful" – and I wondered, why do people say that? So I figured it must have a lot to do with the background art, so when Ghibli closed its production division I was afraid all that talent would be scattered. So Hideaki Anno and another party and we (at Ponoc) decided to form a company to keepo those background artists together. These are people who worked under the leadership of Kazuo Ohga, who is a real master of background art (he worked on Totoro and Princess Mononoke among many others). We managed to persuade each of these artists to come join this new background art studio.

The film has a mountain of complex animation in it – which scene gave your key animators the most trouble?
Director Hiromasa Yonebayashi: Since this is a story set in a fantasy world, I wanted to make sure the various movements and characters and landscapes didn't look real, but were somehow fantastical. We had a lot of strange movements we had to animate.
One is when Mary enters Endō.r College and the headmistress appears in the water – that was very tough to animate. The other one was when the animals are freed, transformed back into their original animal shapes and freed, escaping the cave where they were imprisoned. There were so many different animals, each with slightly different movement, so that was a real challenge. Each of these is only a few moments of screen time, but they took about two months to finish.
There were many scenes like that, that were difficult to animate. But what I put a lot of effort into were the scenes where Mary loses her magic power and has to rely on just her human ingenuity and strength, and with renewed determination runs to the rescue just on her own ability.
You directed The Secret World of Arrietty at Ghibli and now you've directed this film at Studio Ponoc, can you compare those two experiences for us?
 Yonebayashi: Arrietty was my first directorial effort – I was working as hard as I could without any other thought. The screenplay was written by Miyazaki and he also drew some images as to what he thought the look should be. I feel like just as Arrietty and her family were "borrowers" from the humans they lived with, I was "borrowing" things from my mentor to work on that film. In the end she does get out from under the floorboards and goes off, and I felt like I was finally able to do that because I was able to complete the film.
With Mary, it's a completely different story – we made this without the help of Studio Ghibli in any direct way. As Mary stands on her own feet without the use of magic, we are also standing on our own two feet as Studio Ponoc.
For Mr. Nishimura – you produced both Arrietty and When Marnie Was There at Studio Ghibli. It feels to me as though Mary and The Witch's Flower has a broader commercial appeal than both of those films. Was that a consideration when deciding to adapt this story?
Nishimura: As filmmakers, both director Yonebayashi and I aren't thinking about the commercial appeal of a film – we're thinking about whether or not we would want to see it. We're making films we want to see – that's the main goal. But if this film ends up being more commercial – more welcomed by a broader audience, I must thank a certain girl, my daughter.
After I had left Studio Ghibli she told me, she said "Papa, I love The Tale of the Princess Kaguya and I loved Marnie, but why do you only make sad films? Why don't you make something more fun?" That made me realize that as her father, I wanted to make films that she would enjoy seeing. So that probably led to me looking at a broader range of stories.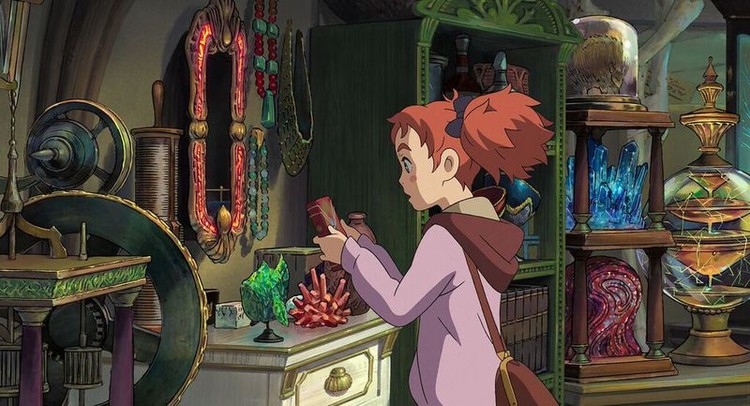 Lastly: what are your long-term goals for Studio Ponoc?
Nishimura: Well, simply put – we learned at Studio Ghibli to make beautiful, meaningful animation that people from children to adults can get something out of. This is what Miyazaki and Takahata did at Ghibli. We want to continue making that effort – feature length films (and we're working on some short films right now too!) to be enjoyed by not just Japanese audiences, but a worldwide audience of all ages, especially kids.
Our thanks to GKIDS, Yoshiaki Nishimura, Hiromasa Yonebayashi and Studio Ponoc.
---
discuss this in the forum (4 posts)
|