×
remind me tomorrow
remind me next week
never remind me
Subscribe to the ANN Newsletter • Wake up every Sunday to a curated list of ANN's most interesting posts of the week.
read more
Interview: Ameko Kaeruda, Author of Sexiled: My Sexist Party Leader Kicked Me Out, So I Teamed Up With a Mythical Sorceress!
by Kim Morrissy,

The English translation of Sexiled: My Sexist Party Leader Kicked Me Out, So I Teamed Up With a Mythical Sorceress! attracted attention when it was first announced due to its unapologetic girl power premise. The story, which was initially self-published on the Shōsetsuka ni Narō website like many light novels these days, is inspired by real world issues. The first volume was released by J-Novel Club on October 5, and to mark the occasion, we have an exclusive email interview with the author Ameko Kaeruda.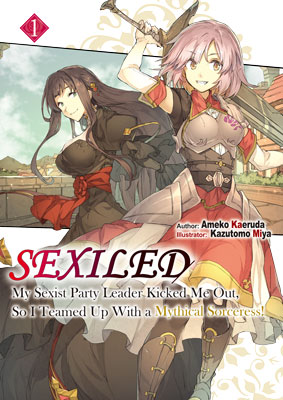 What is the origin of your pen name "Ameko Kaeruda"? And when did you decide that you wanted to be a writer?
I decided on the name "Kaeruda" because I like frogs ("kaeru" in Japanese). Frogs are cute. I really like tree frogs and Argentine horned frogs. Also the word "Kaeru" can also mean "come home", so it's part of the phrase "come home safely". Plus, they make the sound "kerori", which is part of the phrase "Kerori to naoru" (to get healed completely). Frogs are good omens.
"Ameko" is a contracted form or my real name. I've been using "Ameko" as my username on the Internet for over 10 years.
I never quite had the feeling of "I want to be an author!", but from the time I was little I always had a vague feeling that I'd become an author one day.
You wrote in the afterword that this novel was inspired by the gender discrimination issue at Tokyo Medical University. Could you explain the incident for the international readers? What did you feel when you heard the news?
In August 2018, it was reported that in previous years, Tokyo Medical University docked a set amount of points from women who took the written entrance exam. Until then it was regarded as an open secret, so to speak. Everyone in the entrance exam business knew that it was hard for women to get into the medical school, but the issue was never investigated. It takes guts and fortitude to take the exam and become a doctor, whether you're a man or a woman. When I heard the news, I was shocked that not only were women unfairly barred from their life's adventure, but that there are so many people who will just write off the discrimination as a fact of life that can't be changed. So I decided to criticize and poke fun at the ridiculousness of it all through a Narō web novel.
How has the domestic reception been for Sexiled so far? Were you worried that the story would give off the impression of being a bit heavy or difficult because of its theme of gender discrimination?
I didn't think twice about it when my story was given the chance to be published in print form as a light novel. I felt really honored and blessed. The fact that I managed to get a second volume published as well means that this new type of Narō novel has been accepted to some degree.
Many women, particularly those who are sensitive about gender issues, have the impression that Narō novels give off a misogynistic vibe, but the very fact that a story like Sexiled can emerge from Narō means that there is fun to be had for those people as well. Of course, I did have my worries too about whether the story themes were too heavy or difficult. I tried to include as many comedic elements as I could and make the prose light and breezy so that the themes are accessible to anyone. I'm relieved and thankful that it's gotten such a warm reception from the readers.
Do you think male readers will also be able to enjoy a story where all the villains are men? Is there anything you'd like to say to people who are still on the fence about reading this?
Please give volume 2 a shot. This story isn't just allying with women. It's a great light novel for everybody who has ever suffered from an unfair world!
Lately, it seems that Narō web novels about "being chased away out of the party" or revenge fantasies where the bullies get their comeuppance have been on the rise. Why did you decide on that setting for Sexiled?
I always wanted to try writing a story with the "chased out of the party" structure that's all the rage these days. I wanted to show how ridiculous it is to get thrown out of the party because you're a woman, and I always wanted to provide a counter to the problems happening in the real world.
Among light novels with an English translation, there are many works aimed at men, but not so many yuri light novels or stories with a female protagonist, so they may not be so well known overseas. Are there any light novels that you'd recommend to people who enjoyed Sexiled? (It's fine if they're only in Japanese.)
There are plenty!
Among fantasy light novels, I can recommend Nina to Usagi to Mahō no Sensha (Nina & The Rabbits) by Ryūnosuke Utsuki, the recent Omae Gotoki ga Maou ni Kateru to Omou na (Do You Think Someone Like You Can Defeat the Demon King?) by Kiki, and Saikyō no Yōhei Shōjo no Gakuen Seikatsu (The School Life of the Strongest Mercenary Girls) by Togoro Sasa. Among light novels set in modern Japan, Adachi to Shimamura (Adachi and Shimamura) by Hitoma Iruma is famous, and Suiren Grafitti: Watashi to Ano Ko no Naisho no Dōkyo (Suiren Grafitti: My Secret Cohabitation with That Girl) by Shō Setsuji is the greatest. Oh, also, Murasakiiro no Qualia (Qualia of the Purple) is a masterpiece among yuri sci-fi… Honestly, there are too many things to list.
Have you had the chance to read the English translation? If so, what do you think of it?
I still haven't had the chance to read it, but I'm really looking forward to it. Going by the translator Molly Lee's Twitter, I know that she did an amazing job. I have great respect for her work, and I'm proud that to receive an English translation that conveys her utmost respect for the work and the author's intentions.
Tell us about some of the web novels you've written besides Sexiled.
Almost all of them are yuri. (laughs)
A story I'm currently serializing on Narō is Isekai ni Saku no wa Yuri no Hana ~ Konyaku Haki Sareta no de Honmei no Akuyaku Reijō to Onna Futari de Tanoshiku Kurashimasu! ~ (The Flower of Yuri/Lily Blooms in the Other World: After Her Engagement is Broken, the Villainess Has Fun Living with a Girl). The short story Owaru Isekai no Arukikata ~ Moto Inō Shōjo OL (26-sai) wa Isekai de Horobi no Seijo (13-sai) to Sekaiju wo Moyasu~ (A Path in the Ending Other World: A 26-Year Old Former Esper Girl Office Lady Burns the World Tree in Another World with the 13-Year-Old Saint of Destruction) is about a powerful esper girl who is reincarnated into a fantasy world, and decides to save a girl who is fated to be a sacrifice to save the world. I only wrote the climax, but it's yuri with a sekai-kei vibe.
Other than yuri, I particularly like a story I wrote about Okada Izō (a famous historical figure who has gotten particularly popular after becoming a Fate/Grand Order character) being reincarnated into a fantasy world and making delicious food out of monsters. It's called Tensei Chūbō ☆ Okada Izō ~ Nandemo Kireru Cheat Ken, Tadashi Shokuzai ni Kagiru~ (Reincarnated Kitchen Okada Izō: A Cheat Sword That Can Cut Anything, But Only Food Ingredients).
Lastly, do you have a message for international readers?
Thank you for your interest in Sexiled: My Sexist Party Leader Kicked Me Out, So I Teamed Up With a Mythical Sorceress. It is my great honor as an author. Also, I want to extend my thanks to Molly for her wonderful job. This vaunted light novel emerged from Narō and is powerful, extraordinary, and a great read. Please enjoy it! If this novel can encourage you to kick back at the unfairness in Japan or in your own surroundings, that'd be super!
---
discuss this in the forum (23 posts)
|