News

Otome wa Boku ni Koi Shiteru 2's Airing, Staff Revealed

posted on

2012-03-24

15:59 EDT by Lynzee Loveridge
All new staff, animation studio for TV sequel's production
---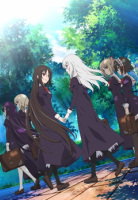 Moca News reports that the previously announced anime sequel to the 2006 television series Otoboku - Maidens Are Falling for Me! will also be on television. The Otome wa Boku ni Koishiteru 2 ~Futari no Elder~ anime is, like its predecessor, based on an adult visual novel by Caramel Box.
The new anime will be directed by Shinya Kawazura (Durarara!!) with Michiko Yokote (Genshiken, Squid Girl) in charge of scripts. Keiichi Sano (Heaven's Memo Pad) is designing the characters, and SILVERLINK is in charge of animation production; the first series was animated by Feel.
The new anime was first revealed in 2010. In January, a wraparound jacket band for the Otome wa Boku ni Koishiteru 2 ~Kin no Ori Ibara no Torikago novel revealed that the anime project was still in production.
A public preview of the series will debut at Anime Contents Expo 2012 on March 31 and April 1 in Japan.
The story is set in the same Seio Girl's School as the first game and its spinoffs. A beautiful, silver-haired student named Chihaya Kisakinomiya is transfering into the all-female student body at Seio. The catch is that Chihaya is a boy.
---