News

Suzuko Mimori, Misato Fukuen Star in Magimoji Rurumo TV Anime

posted on by Lynzee Loveridge
---

The July issue of Kodansha's Monthly Shōnen Sirius magazine is announcing the cast of the television anime adaptation of Wataru Watanabe's (Yowamushi Pedal) Magimoji Rurumo manga on Monday. The series will star:
Suzuko Mimori (Fairy Tail, Love Live! School idol project) as Rurumo
Makoto Takahashi as Kōta Shibaki
Misato Fukuen (Valvrave the Liberator, To Love-Ru -Trouble- Darkness) as Chiro
Shizuka Ishigami ( Daimidaler the Sound Robot, Seirei Tsukai no Blade Dance) as Sumiko Inoue
Yurika Endō (Sakura Trick, Z/X Ignition) as Tanako Kujirai
Mimori will perform the series' opening theme "Seiippai, Tsutaetai!" (I Want to Convey This to You With All My Might!) and Endō will perform the ending theme "Futari no Chrono Stasis" (Our Chrono Stasis).
The "magical slapstick comedy" begins with Kōta Shibaki (the #1 pervert of his school) and some magical tickets that suddenly arrive for him. Rurumo, an apprentice witch who was demoted from a full witch, is training with these tickets in the human world. Shibaki can use these tickets to grant wishes that Rurumo must perform as part of her training. The catch is that each used ticket shortens Shibaki's life.
Chikara Sakurai (Little Busters!, Naruto) is directing the anime at J.C. Staff (A Certain Scientific Railgun S, Little Busters!, Witchcraft Works). Mariko Kunisawa (Hatsukoi Limited, A Certain Scientific Railgun) is writing the scripts, and Kazunori Iwakura (Ai yori Aoshi, Little Busters! Refrain) is designing the characters. Satoshi Motoyama (From the New World, Senki Zesshō Symphogear G) is directing the sound.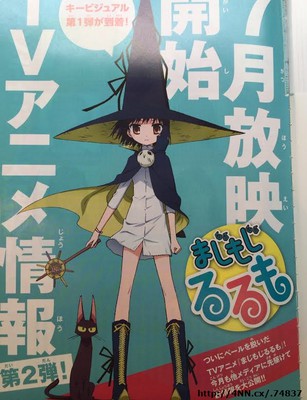 The television anime will premiere this July.
Wataru Watanabe launched the manga in Monthly Shōnen Sirius in 2007, before he started the bicyling manga Yowamushi Pedal. The first seven-volume Magimoji Rurumo series ended in 2011, and Watanabe then serialized the four-volume Magimoji Rurumo: Makai-hen (Magimoji Rurumo: Magic World) series from 2011 to 2013 in the same magazine. The latest series, Magimoji Rurumo: Hōkago no Mahō Chugakusei (Magimoji Rurumo: Afterschool Magic Middle School Student), debuted in Monthly Shōnen Sirius last June. Like Magimoji Rurumo, Watanabe's Yowapeda manga inspired an ongoing television anime.
---