News

AKB48 Idols Undergo Successful Surgery After Attack

posted on by Karen Ressler
Also: suspect's mother didn't know he was a fan
---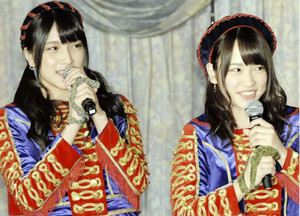 AKB48 idol group members Anna Iriyama (18) and Rina Kawaei (19), as well as a male staff member, underwent surgery for their injuries after a man attacked them at a handshake event on Sunday. The surgery began at 9:00 p.m. and lasted three hours with no complications.
Kawaei suffered a laceration and bone fracture in her right thumb, while Iriyama suffered a fracture in her right pinky finger and a laceration to the head. The male staff member suffered cuts to his left hand.
The suspect, identified as 24-year-old Satoru Umeta, admitted to the charge of attempted murder on Iriyama and Kawaei after he was arrested. Umeta's mother responded to press inquiries on Sunday night, saying that he did a terrible thing, and that it is appropriate that she apologize. When asked about whether or not he was a fan of AKB48, she said she never saw anything like CDs or handshake event tickets in the house.
Umeta lives with his mother and three older brothers. He held several part-time jobs in Towada since graduating high school, and quit the most recent one in December. He has since been unemployed with shut-in tendencies.
Thanks to Chad Stephenson for the news tip
Sources: Rakuten Women, TV Asahi, Yahoo! Japan News
---
follow-up of
AKB48 Idols Anna Iriyama, Rina Kawaei Attacked at Fan Event