News

Patama Inverted UK Extras Confirmed (Updated)

posted on by Andrew Osmond
Includes director's messages to UK viewers.
---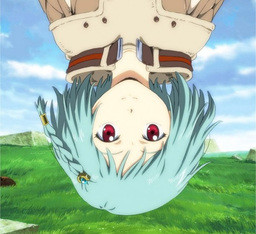 In an update to its Patema Inverted Kickstarter page, Anime Limited has confirmed details of the film's extras, and suggests how to 'lobby' UK cinemas to screen the film. From the announcement:
We've cleared basically everything from the Japanese edition - which is to say:

Audio commentary with Yasuhiro Yoshiura (the director)

Interview with Yasuhiro Yoshiura (the director)

Interview with the voice actors for Age and Patema

Premiere at Tokyo International Film Festival with director and voice cast

Original Japanese trailer

NOTE ON THE COMMENTARIES: These will either be mixed against English dub or with nothing behind it (interested to hear backers thoughts). All elements with Japanese speech will of course be subtitled :).

But that's not all! We've got some stuff we prepared especially in the UK too...

Message from Yasuhiro Yoshiura to UK viewers (for before you watch the film)

Message from Yasuhiro Yoshiura to UK viewers (for AFTER you've watched the film)

Special interview with Yasuhiro Yoshiura from the UK press day

UK theatrical trailer

These extras were prepared especially in the UK (...) They'll be available on ALL editions - so whether you buy the regular amaray, collector's edition and definitive edition, you're covered. In this bonus interview, Yoshiura-san discusses the film and even points out a few interesting things to keep an eye out for when watching the film.
Anime Limited also discusses the issues of Patema Inverted cinema screenings. (Many of the one-off screenings so far have been 'Kid's Club' screenings where unaccompanied adults are not admitted.)
The recently launched OurScreen is a UK project that allows fans of films to lobby cinemas to get a screening of particular films shown at their local cinema. It's a grassroots support network that allows cinemas to see just how much local support there is in real numbers and can make programming decisions based on that! (...) We'll be adding Patema Inverted to the site and encourage each and everyone of you interested in seeing Patema Inverted in the cinema to make your voices heard! For more information on just how to do this, check out their site at https://www.ourscreen.com/..
The Kickstarter's original goal of creating an "Ultimate Edition" of Patema Inverted was achieved within a few hours of the Kickstarter opening. It has also passed its first stretch goal (at £25,000), to create a specially commissioned illustration by the film's original character designer, Ryusuke Chayama.
The second stretch goal (at £40,000) would be to add the film's OST for all backers of the Kickstarter campaign. There are more details at the bottom of this page.
As of 11 a.m. on Tuesday, the Kickstarter was at just over £32,700 with five days to go
According to the Kickstarter page, rewards can be shipped to the UK, Republic of Ireland, France, the Netherlands, Belgium and Switzerland.
Update - Anime Limited has posted the interview clip of Yoshiura (below), filmed in the UK, though the company specifies that 'the subtitles were just a quick, in-house job... The final video will be done professionally.'
---
this article has been modified since it was originally posted; see change history