News

Hatoful Boyfriend Pigeon Dating Game Gets English Remake

posted on by Sarah Nelkin
New English version of
Hato
Moa's 2011 PC game to launch this summer
---

North American video game publisher Devolver Digital announced on Friday that it is collaborating with British independent game developer Mediatonic to publish an English remake of Hato Moa's Hatoful Boyfriend (Hatoful Kareshi, literally 'Pigeon-ful Boyfriend') dating simulation game this summer. The game will be released digitally in English for Mac and Windows PC. A playable version will be available at next week's Electronic Entertainment Expo (E3) convention by appointment.
The original otome game (romance games for female players) began as an April Fool's joke that inspired a free downloadable version in July 2011. A Hatoful Kareshi Plus updated release launched in August 2011, and a full version of the game was released in October 2011. Hato Moa released an official English patch for the game translated by Nazerine in 2012. The Hatoful Kareshi HolidayStar sequel debuted in December 2011.
In the game, the player is a human female who is seeking to fall in love with a pigeon at a school for gifted birds. The game features portraits of every bird that suggest what they would look like in human form.
The original game's cast includes: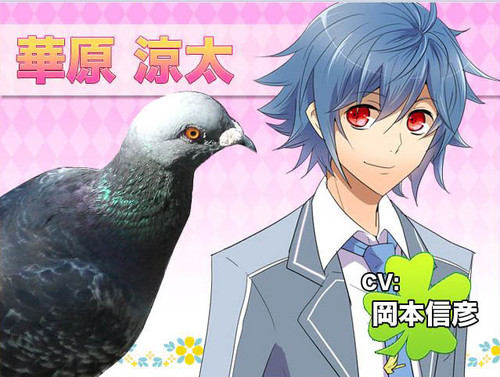 Ryōta Kawara (voiced by Shintarō Asanuma in the Drama CD), the protagonist's childhood friend.


Sakuya Le Bel Shirogane (Akira Ishida), a pompous and prideful bird of French nobility.


Kazuaki Nanaki (Hiroshi Kamiya), the protagonist's homeroom teacher who is more than just a little bit spacey.


Nageki Fuji (Mitsuki Saiga), a mourning dove whose first name literally means 'mourning.' A loner who spends most of his time reading books with one wing.


Yūya Sakazaki (Koji Yusa), a separated half-brother of Sakuya. The rumors say that he's quite the playboy (playbird).


Shuu Iwamine (Takehito Koyasu), the chukar partridge doctor at the infirmary. He's been seen asking his pupils to give him various body parts for his experiments.


Okosan (Norio Wakamoto), a strange pigeon that often speaks gibberish. He is apparently on a quest for pudding, but according to rumors, the pudding he seeks is not just any common dessert.
Hato Moa released three Hatoful Boyfriend drama CDs between 2011 and 2012. A manga adaptation launched as a webcomic in 2012, and publisher Takeshobo released a compiled book volume in 2013.
This year's E3 convention will be held in Los Angeles from June 10 to June 12.
[Via Hachima Kikō]
Character images via Metanorn
---