News

Madman Announces Three New Titles at Supanova Sydney

posted on by Jon Hayward
---
The following acquisitions were announced during the Madman panel at Supanova Pop Culture Expo in Sydney on Sunday the 15th of June 2014. This follows on the announcement on Friday that Oz Comic Con will host the Australian premiere of Terror in Resonance, Saturday's acquisition of Tokyo Ghoul and where the Sword Art Online Exhibition will tour in the second half of 2014 (including Auckland).
You can view the press-release for today's announcements here. The three titles announced are as follows;

© Asaura

KaitoSibano/SHIEISHA,HalfPrice

-club.
From Madman's press-release;
Every day, an epic struggle rages in grocery stores across Japan - the battle for half-priced Ben-To boxes! Once the discount stickers go on, ravenous brawlers start throwing punches in a knockdown, drag-out war over who gets to take home the cheap eats.

When a young, broke high school student named Sato joins the 'Half-Priced Food Lovers Club', he proves to be a rising talent in the world of insane food fights. But does he have what it takes to become the king of clearance cuisine?
Shin Itagaki (Devil May Cry, Mayoi Neko Overrun!) is directed the anime and was responsible for story editing (with Kazuyuki Fudeyasu of Bleach, Monster and Gunslinger Girl) and design works. Katsuzo Hirata (Cosplay Complex, Hand Maid May) served as both the character designer and the chief animation director. Taku Iwasaki (Black Butler, Gurren Lagann, Soul Eater) composed the music.
Asaura has been publishing the light novel series through Shueisha's Super Dash Bunko imprint since 2008 and they have (to date) published 15 volumes. Kaito Shibano (Luminous Arc simulation role-playing games' character designs) illustrates each volume.
Released in Japan in 2011, this 12 episode series was originally streamed by Funimation in February 2014 and has since announced the dub cast for it's July release in North America.
Madman will release Ben-To on DVD, Blu-ray and digital platforms in September.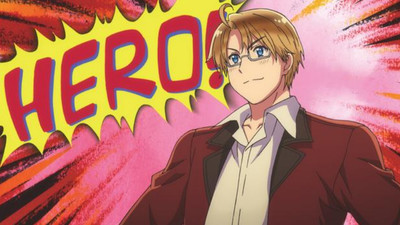 From Madman's press-release;
The Allied guys and Axis boys are back in HETALIA: THE BEAUTIFUL WORLD! It's Season 5. As in high-five! And when we high-five, a tiny kitten appears with a wee banjo! And he's playing a song about a cupcake and it's freaking adorable! But then Prussia shows up and yells at the kitten. But the kitten doesn't get sad, because, dude…

Claaaassic Prussia.
As stated above this is the fifth series of Hetalia - Axis Powers that follows personified versions of countries as they react to and take part in historical situations with usually comedic results. The series started as a webcomic that has now been collected into five volumes, five seasons of the anime adaptation and a theatrical film. Madman has released the previous four seasons and the film in Australia and New Zealand and their new release will hit DVD, Blu-ray and digital release in September.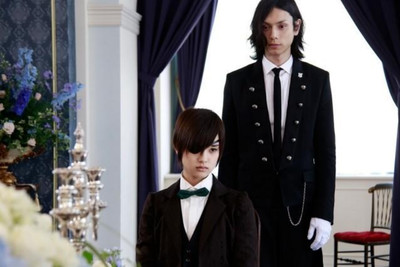 A live-action theatrical addition to the Black Butler. While the original is set in 19th century England, the film is set 130 years later in 2020 in a Asian city where Western and Asian cultures freely intermingle. The film follows the titular demonic butler, Sebastian Michaelis (Hiro Mizushima) who has impeccable knowledge, manners, grace and skills as he contracts to Shiori Genpō (Ayame Gōriki). And while Shiori's seal with Sebastian keeps her protected against those that seek to harm her, in return Sebastian slowly consumes her soul.
Kentaro Otani (NANA) and Keiichi Satou (Tiger & Bunny, Karas, Asura) co-directed the film. Black Butler was the first time since Beck three years ago that Mizushima is starring in a film and he previously played another eminently capable butler inspired by a manga series, Mei-chan no Shitsuji. By the third week of it's Japanese theatrical run in February this year the film had brought in over 479,554,245 yen (~$4.9 million AUD) through the box office.
The manga debuted in Square Enix's Monthly G Fantasy magazine in 2006 and has published 18 volumes with over 18 million copies published in 42 countries and territories. The manga already inspired a television anime series in 2008 and a stage play in 2009. It received the top prize in the shōnen manga category of France's Japan Expo Awards in 2010 and the Best International Manga Award in Germany's Animagic in 2011.
This year the series has received a second tv anime series titled Kuroshitsuji: Book of Circus that will premiere in July. This is alongside Kuroshitsuji: Book of Murder, a new OVA series that will premiere in Japanese theatres in the fall.
Madman's release of Black Butler (live-action movie) will be coming to home video and digital platforms on a yet to be announced date.
---