News

New Gargantia OVA's Cast, Story Unveiled

posted on by Crystalyn Hodgkins
2-part
OVA
series takes place 6 months after TV series ended
---
The official website for the Gargantia on the Verdurous Planet franchise revealed more information about the upcoming two-part original video anime project Suisei no Gargantia: Meguru Kōro, Haruka on Wednesday. The website revealed the OVA's story, new cast members, and returning staff.

Note: the following one-paragraph story outline refers to spoilers that happened at the end of the television series.
[Highlight white text to read spoilers] It has been a half a year since Chamber's heroic sacrifice. Ledo is living his new life with his companions aboard the Gargantia fleet, and he works diligently as a member of the salvage team working to recover bits and pieces of the previous age of human civilization. Reema, a girl who used to be a part of Cugel's fleet, then appears. Reema now studies under Amy as a messenger. After Ledo and Reema meet, Ledo reflects on his former life in the military and how the life he lives now aboard the Gargantia is completely different. Ledo is also awaiting the difficulties and crises that he knows the future will bring. With his bond with Chamber engraved on his heart, Ledo faces his future in the sky and in the sea.
The returning cast includes:
Kaito Ishikawa as Ledo
Hisako Kanemoto as Amy
Ai Kayano as Saaya
Kana Asumi as Melty
Shizuka Itou as Bellows
Sayaka Ohara as Ridget
Katsuyuki Konishi as Pinion
Ayumi Tsunematsu as Lacage
Tomokazu Sugita as Chamber
Aside from the returning cast, Inori Minase will voice the new character Reema.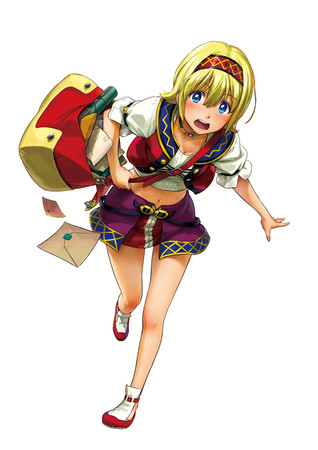 The returning staff for the OVAs is as follows: Kazuya Murata is will direct the OVA series at Production I.G. Nitroplus' Gen Urobuchi is supervising the story, and Daishiro Tanimura is handling the script. Hanaharu Naruko is designing the characters, and Masako Tashiro is adapting Naruko's designs for animation and also serving as chief animation director. Makoto Ishiwata will handle the mechanical designs, and Taro Iwashiro will compose the music. Tomoaki Okada will handle the Gargantia design.
The website has also released a few screenshots of the new series (available in the gallery below).
The first part of the new OVA will screen in 10 Japanese theaters on September 27. The second volume will then play in theaters next April. Those who buy advance tickets to the first volume's screening at participating theaters can receive a bonus rubber Chamber mobile phone strap or a clear ticket holder file folder.

Bandai Visual has also revealed more details about the Blu-ray Disc release of the new OVA series. The Blu-ray Disc with the first episode will ship on November 21, and the second Blu-ray Disc will ship on May 27. Each Blu-ray Disc will retail for 7,500 yen (about US$75), and both releases will include English subtitles.
Viz Media streamed the television series as it aired last year and plans to release the series on DVD and Blu-ray Disc this year.

Blu-ray Disc information via WTK
---