News

New Live-Action Lupin III Film's Full Trailer Previews Theme Song

posted on by Lynzee Loveridge
---
The full trailer for the new live-action Lupin the 3rd film debuted on Wednesday. The trailer features the new instrumental theme song by Tomoyasu Hotei:
Text: Lupin the 3rd arrives.
Lupin: I'll be taking this.
Man: Lupin the 3rd. His legacy lives on.
Text: Lupin the 3rd - Daisuke Jigen - Goemon Ishikawa - Fujiko Mine - Inspector Zenigata
Zenigata: It's a gathering of superstars who each have committed great crimes. It's like a dream team of criminals.
Text: Their target is the legendary treasure
Text & Man: Crimson Heart of Cleopatra
Man: The most valuable possession.
Man: I was saving it though. Tonight I killed your father.
Man: Always come with a good price. Lupin the 3rd.
Daisuke: No matter what the case, isn't this target a bit dangerous?
Lupin: We're thieves. We're taking it all.
Text: From an impenetrable fortress
Text: Main theme: Tomoyasu Hotei
Text: Steal the treasure!
Goemon: Once again I have cut a worthless object...
Zenigata: Lupin!!
Man: You're just going to hand it over.
Fujiko: Sorry, Lupin.
Fujiko: Lupin!!
Text: Lupin the 3rd
Lupin: In the end, it's decided by luck, you know.

The story follows Lupin and his partners in crime before they became a gang. They infiltrate the high security of the Ark of Navarone, a gigantic fortress-like safe, to lay claim to the Crimson Heart of Cleopatra within. It is said that whoever possesses this treasure shall "unite the world."
Hotei, the singer and guitarist who gained a new wave of international fans with Kill Bill's use of his "Battle Without Honor or Humanity" song, is performing the theme song "Trick Attack -Theme of Lupin the Third." The song will play during a climactic scene in the movie, and this trailer will start playing in theaters this Saturday.
The movie stars (from left to right in the images below) Tadanobu Asano as Detective Kōichi Zenigata, Gou Ayano as Goemon Ishikawa, Shun Oguri as Lupin, Tetsuji Tamayama as Daisuke Jigen, and Meisa Kuroki as Fujiko Mine. An original character, Lupin's nemesis Michael Lee, will be played by Jerry Yan (Meteor Garden) of the popular Taiwanese group F4. Other cast members include South Korean actor Kim Joon (South Korean Hana Yori Dango) and Thai actor Thanayong Wongtrakul (The Man from Nowhere).

The first live-action adaptation of Lupin III in four decades will open on August 30. The movie began filming on October 3 and finished principal photography on December 26. The production shot in Japan, Thailand, Hong Kong, Singapore, and the Philippines.
The film is now in the middle of the final steps of editing, and the staff aims to complete post production and the film itself at the end of June. Ryuhei Kitamura (Azumi) is directing the film, and Mataichirō Yamamoto wrote the script.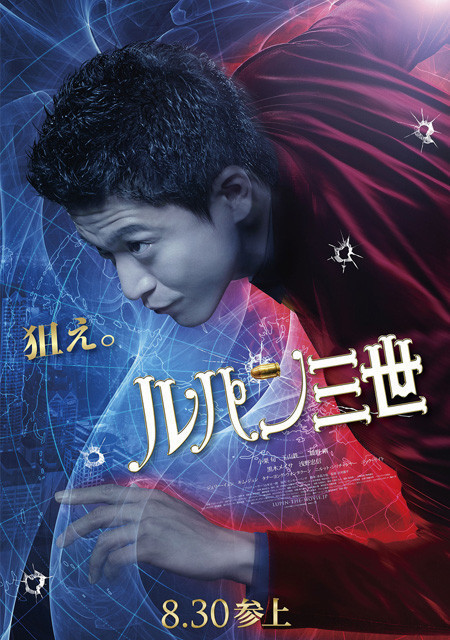 Thanks to Edward Himel and Daniel Zelter for the news tips
Images © 2014 Monkey Punch/Lupin III Production Committee
---