×
remind me tomorrow
remind me next week
never remind me
Subscribe to the ANN Newsletter • Wake up every Sunday to a curated list of ANN's most interesting posts of the week.
read more
News

Barakamon's 'Mijikamon' Short Anime's Episode 0 Posted (Update)

posted on by Sarah Nelkin
Cast turned into chibi characters for series of shorts leading up to July 5 TV anime
---
The official website for the television anime adaptation of Satsuki Yoshino's Barakamon manga began streaming episode zero of Mijikamon, a series of shorts inspired by the manga that star the characters in super-deformed versions of themselves. Mijikamon is short for "Mijikai Barakamon." (Short Barakamon). Episode zero features voice actress Kujira (Naruto's Orochimaru, Danganronpa's Sakura Ogami, Gintama's Otose) as the middle-aged woman.

Text: Mijikai Barakamon (stamp at the top right reads, "Adlib Theater")
Handa: Mijikamon
Handa: Oh, hello. I'm Ha- Ow! Heavy! My head is heavy! What the heck is this!?
Text Box: Chibi character - A character that is at two to three heads in height. By making the character's head big, it appears childish and cute.
Handa: Chibi characters? Chibi chara- Wait, didn't that go away way too fast!?
Handa: Grr... All right! What is this? It's so hard to keep my balance!! ...But how does the Handa chibi character look? ...Well, I guess this could pass... A Handa chibi character. Yeah, I could dig this.
Handa: Kinda like the ones that would be cute if you made them into keychains? Oh, I see. They're trying to sell them... Um, who are you?
Woman: That's just cold, sensei.
Handa: What...!? Who are you? I really don't know, uh...
Woman: It's expected that you don't know me. After all, I'm just a normal middle-aged lady on the island.
Handa: Wait... What!? Aren't there plenty of other characters we can turn into chibis...? Wait, do you appear in episode one?
Woman: Not only do I not appear in episode one, but I only appear in episode three for like, only a second, and I barely have any lines.
Handa: What!? Then why are you a chibi character!?
Woman: You sayin' that non-central characters that mean nothing at all don't have the right to be chibi characters or something??
Handa: Ahh, no no no, I would never say that!
Woman: The title Barakamon means "energetic one"!
Handa: I-I know that. What's up with that, all of a sudden...?
Woman: This bean sprout-like ordinary guy was born in Tokyo, trained in calligraphy, and his name is Senshū Handa.
Handa: Hey hey...
Woman: People call him "Hansei" for short (Hansei meaning "reflecting on one's wrongdoings").
Handa: No, they don't.
Woman: As you can tell from his name, he's lived a life of much wrongdoing and reflecting, and this lead to his exile.
Handa: No, it didn't.
Woman: And um... It's a story about him doing lots of things with a kid and other stuff.
Handa: That's way too rough an estimation!
Woman: It's becoming an anime in July, so please watch if you'd like!
Handa: OK, finally back on track.
Woman: One more thing... It's very interesting! (in Kyoto dialect)
Handa: Why Kyoto dialect!?!
Woman: I'm a maiko (a geisha in training)!
Handa: No way!
Woman: Oh, so you found me out.
The shorts will be bundled as bonus video materials on the anime's DVD and Blu-ray releases. The first DVD and Blu-ray volume will ship in Japan on September 24, and first copies of the release will come with a booklet containing all of the storyboards for episode one of the series.
The anime will premiere in Japan on Saturday.
The cast will star:
Daisuke Ono
(
Noragami
,
Magi: The Kingdom of Magic
,
Attack on Titan
) will
play
the series' lead Seishū Handa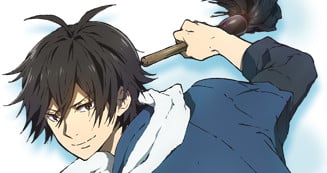 Child voice actress Suzuko Hara will play the role of the 7-year-old co-star Naru Kotoishi.


Nozomi Furuki as Miwa Yamamura


Rumi Ookubo as Tamako Arai (Tama)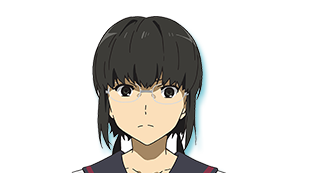 Kouki Uchiyama as Hiroshi Kido


Rina Endō as Hina Kubota


Seiya Kimura as Kentarō Ōhama (Kenta)


Megumi Han as Akki


Tanuki Sugino as Yūjirō Kido (Village Chief)


Fumihiko Tachiki as Vice Principal


Junichi Suwabe (Space Dandy, Fate/stay night, Kuroko's Basketball) as Takasei Kawafuji


Yuuki Kaji (Magi: The Kingdom of Magic, Blood Lad, Accel World) as Kosuke Kanzaki


The slice-of-life comedy manga centers around the ikemen (handsome) 23-year-old calligrapher Seishū Handa, who moves to the remote Gotō Islands off the western coast of Kyushu. Seishū grew up in the city, and the manga chronicles his interactions with the people of the island, who drive tractors on public roads and don't enter through his front door when they visit. On top of that, Seishū's house becomes a hangout for the island's children.

Kinema Citrus (Yuyushiki, Code:Breaker) will produce the animation for Nippon TV. Masaki Tachibana (Tokyo Magnitude 8.0, The Legend of Heroes: Trails in the Sky) is directing the series off of Pierre Sugiura's (Yuyushiki, Bottom Biting Bug) scripts. Majiro (Nagareboshi Lens) is handling the character designs, and Kenji Kawai (Moribito - Guardian of the Spirit, Patlabor 2: The Movie) is handling the music.
Yoshino launched the manga in Square Enix's Gangan Online magazine in 2009. Square Enix released the eighth compiled volume in September. Yoshino launched a spinoff manga, titled Handa-kun, in Monthly Shonen Gangan magazine starting in October. Yen Press announced in February that it has licensed the series.
Thanks to Rachel S. for the news tip
Update: Non-region locked embedded video added.
Source: Comic Natalie
---