News

Sekai Project Licenses Le Fruit de la Grisaia, Planetarian Visual Novels

posted on by Crystalyn Hodgkins
Also: Oculus Rift-compatible combat fighter plane game Raiders Sphere 4th
---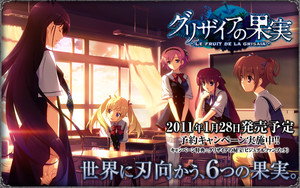 Video game and visual novel translation company Sekai Project revealed at its panel at Anime Expo on Thursday that it has licensed Frontwing's Le Fruit de la Grisaia (Grisaia no Kajitsu) visual novel and Visual Art's/Key's Planetarian visual novel.
Frontwing's original Le Fruit de la Grisaia adult PC game is set in an academy that is a cloistered "orchard" for girls to be educated and cultivated away from external influences. Five girls spend their lives within these walls in repentance and atonement. Yūji Kazami has just enrolled as the sole male student there.
The game shipped in Japan on February 25, 2011 with character designs by Akio Watanabe (Bakemonogatari, The World God Only Knows) and Fumio (Tomoyo After ~It's a Wonderful Life~, Hoshiuta). Nachi Kio, Ryūta Fujisaki, Yoshigazu Kuwashima, and Kazuya wrote the scenarios, and Elements Garden (Bodacious Space Pirates, Love, Election & Chocolate, Senki Zesshō Symphogear) scored the music.
A television anime adaptation of the game will premiere this fall.

Visual Art's/Key originally released the planetarian -Dream of Little Star- "kinetic novel" in Japan on personal computers in 2004 before porting it to the PlayStation 2 and PlayStation Portable consoles. The story takes place 30 years after a world war put a halt to space development. The protagonist, simply known as "the Junk Hunter," attempts to restore a planetarium's projector after meeting a robot. Sekai Project has the license to release the PC version of the game on Steam, and plans to port the game to Mac and Linux devices in the future.
Visual Art's/Key previously released the game in English on iOS devices last year.
Sekai Project also announced that it will release Rectangle's Raiders Sphere 4th, an Oculus Rift-compatible fighter plane combat game with visual novel elements. Sekai Project has a tech demo for the game at its booth at Anime Expo. The company plans to release the game by the end of the year.
---