News

Expelled From Paradise Film's 2nd Theatrical Trailer Streamed

posted on

2014-07-05

02:11 EDT by Kyle Cardine
---
The official YouTube channel for scriptwriter Gen Urobuchi (Puella Magi Madoka Magica, Fate/Zero), Toei Animation, Nitroplus, and director Seiji Mizushima's (first Fullmetal Alchemist anime, Gundam 00) Expelled From Paradise (Rakuen Tsuihō) film project began streaming 15- and 30-second versions of a new trailer on Friday. The film will open in theaters on November 15.
The film's cast was also announced at the "Nitro Super Sonic 2013" event in Tokyo in September.
Rie Kugimiya will play Angela Balzac
Shinichiro Miki will play Dingo a.k.a. Zarik Kajiwara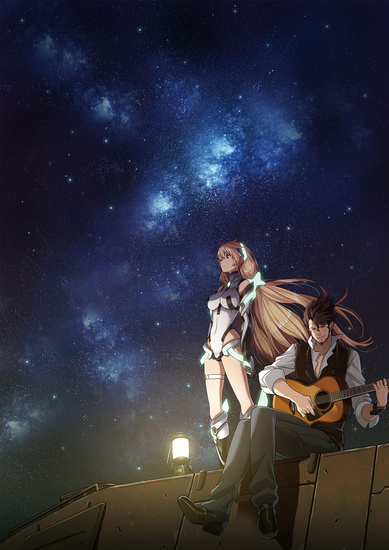 Other staff includes:
Character Design : Masatsugu Saito
Main Conceptual & Visual Design : Yasuyoshi Uetsu
Mechanical Design : Junya Ishigaki
Sculpture Design : Masaki Apsy
Graphic Design : Tsuyoshi Kusano
Conceptual Consultant & Conceptual Design : Shinya Ogura
Storyboard : Seiji Mizushima / Tomoki Kyoda
CG Directors : Tomoaki Kaneko / Naoki Ao
Modeling Director : Kazumasa Yokokawa
Color Designer : Eriko Murata
Motion Graphic Artists : Yohei Miyahara (Capsule)/ Natsuko Sato
Art Director : Masanobu Nomura (Bihou)
Composite Supervisor : Kojiro Hayashi
Editing : Masato Yoshitake
Sound Director : Masafumi Mima (Techno Sound)
Sound Effects : Shizuo Kurahashi (Sound Box)
Music : NARASAKI
Animation Producer : Hiroki Yoshioka
Producer : Koichi Noguchi
Animation Production : Graphinica

The science-fiction film was announced at Tokyo International Anime Fair (TAF) in 2012. The film stars Rie Kugimiya as the female protagonist, Angela, and Shinichiro Miki as Dingo a.k.a. Zarik Kajiwara.
---