News

Nanana's Buried Treasure Series Replaces Illustrator Akaringo

posted on by Sarah Nelkin
Non also takes over spin-off novel series for illustrator, who is suffering from poor health
---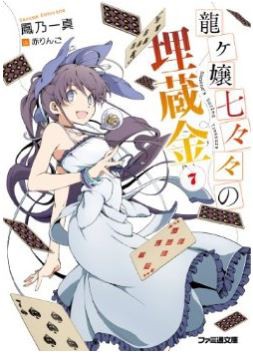 Enterbrain posted a notice on its website on Friday, announcing that illustrator Akaringo will step down from the duties of providing art for Kazuma Ōtorino's Ryūgajō Nanana no Maizōkin (Nanana's Buried Treasure) light novel series, as well as its spin-off Ikkyū Tensai no Kimete Fuhon'i Meisuiri (The Many Reluctant Inferences That Tensai Ikkyū Makes) due to the illustrator's poor health. In Akaringo's place, Non will take over the duties of illustrator for both series.
In response to the switch, Akaringo, Kazuma Ōtorino, and Non all gave statements. In Akaringo's comment, the illustrator writes that during the work on volume seven of Nanana, Akaringo's health declined, and the illustrations for that volume could not be finished. Due to the Akaringo's health not improving, the decision was made to replace the illustrator in both projects.
Akaringo apologized to the readers, Ōtorino, and all those involved with the work for letting them down during the anime adaptation of all times, when attention toward the series is most heightened. Finally, Akaringo gave thanks to all of the readers, and asked them to continue to cheer on Ōtorino's Nanana novel series without change, as well as cheer on Non and the new illustrations.
Otorino began by apologizing to the readers of the novels for the switch in illustrators, knowing full well that it might cause confusion as the story is currently right in the middle of the "game arc." He also asked for readers to look forward to future installments of both of his novel series.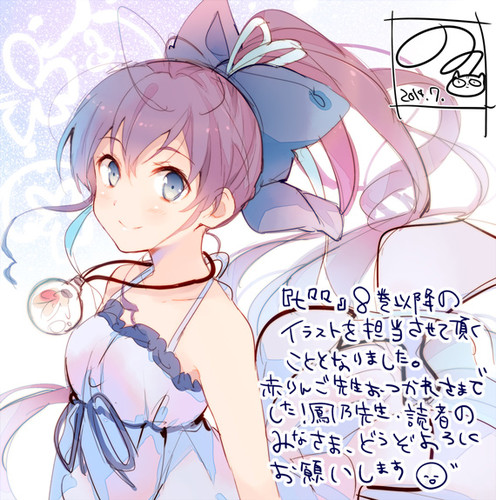 Non's illustration (seen above) lists the comment, "Akaringo-sensei, good work up until now!"
Although Akaringo provided the color illustrations for the seventh volume of Ryūgajō Nanana no Maizōkin in March, but did not draw any monochrome art that was scheduled to be featured within the text. The reason listed for the lack of illustrations was Akaringo's health that had declined.
The story centers around the treasure of Nanana, a ghost who was once a beautiful but NEET (Not in Education, Employment or Training) girl. A boy named Jūgo was disowned by his father and forced to transfer to a high school on the "Special Student Zone," an artificial island. With only 40,000 yen (about US$400) a month to live on, Jūgo chooses a low-rent apartment that happens to be haunted by Nanana. Jūgo and members of the school's adventure club join a "treasure hunt royale" on the island for the Nanana Collection, treasures that possesses a mysterious power.
An anime starring Rui Tanabe and Yūki Ono began airing in April. Aniplex of America has announced that it has acquired the series, and Daisuki began streaming the series one month after its Japanese broadcast. Crunchyroll streamed the series as it aired in Japan.
[Via 0takomu]
---