×
remind me tomorrow
remind me next week
never remind me
Subscribe to the ANN Newsletter • Wake up every Sunday to a curated list of ANN's most interesting posts of the week.
read more
News

Sentai Filmworks Licenses Monthly Girls' Nozaki-kun

posted on by Karen Ressler
---

Sentai Filmworks announced on Friday that it has licensed the anime adaptation of Izumi Tsubaki's Monthly Girls' Nozaki-kun (Gekkan Shōjo Nozaki-kun) manga. The company plans to release the series on home video, and Crunchyroll is streaming the series as it airs.
Sentai Filmworks describes the story:
Love is the spirit that motivates an artist's journey. Or, rather, it can and should be. Of course, for mangaka artist Nozaki… he's clueless when it comes to those special feelings of love coming from his own classmate. It's the age-old tale: the girl's into a guy that barely knows they exist. And it's no different for Sakura. While all she can think about is him, all he cares about is the publication deadline looming over his head. Unfortunately, this all came about because Sakura didn't share her true feelings with Nozaki. This all leads to a huge misunderstanding – and, as a result, Sakura becoming his assistant. Little did she know, but she now works for one of her favorite mangakas. Only she's a he! And that's the strange part; Nozaki is the creator of the popular shojo manga, Let's Have a Romance!, under the alias of Yumeno Sakiko. So, how could such a stubborn numbskull such as Nozaki be so in touch with a girl's wants and needs to create such inspiring stories that Sakura loves? And will she spoil their working relationship to finally admit how she really feels about him?
The cast includes:
Yūichi Nakamura as Umetarō Nozaki, a high school student who writes the popular shojo manga "Koi Shio ♥" under a woman's pen name. He has a lot of fans as a manga artist who is sensitive to women's feelings, but in real life he's thick-headed and lacks delicacy.


Ari Ozawa as Chiyo Sakura, a high school girl with unrequited love for Nozaki. Her confession to Nozaki is misunderstood, and she ends up working as his manga assistant. She's a member of the art club and Nozaki values her skills.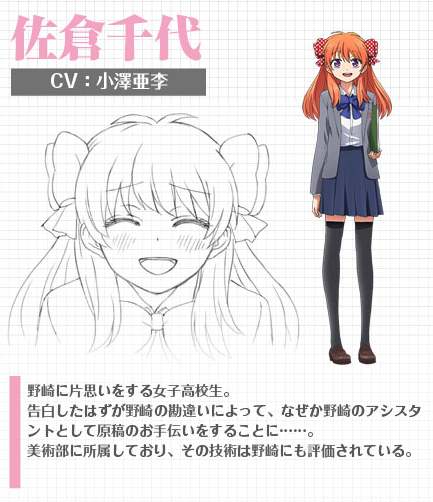 Nobuhiko Okamoto as Mikoto Mikoshiba, one of Nozaki's assistants. He's popular with girls because of his appearance and way of speech. He's the model for a certain character in Nozaki's manga, but he hasn't realized it.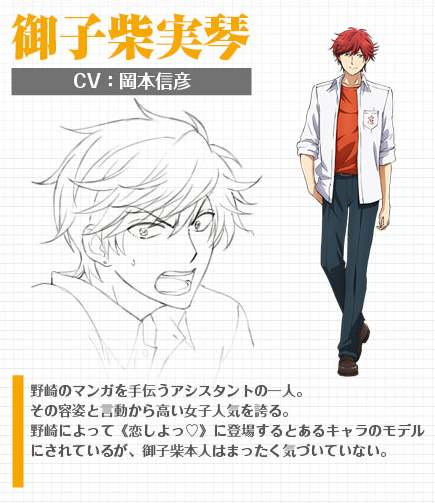 Yūki Ono as Masayuki Hori, one of Nozaki's assistants. He's president of the drama club, and is merciless in his leadership over his junior in the club, Kashima.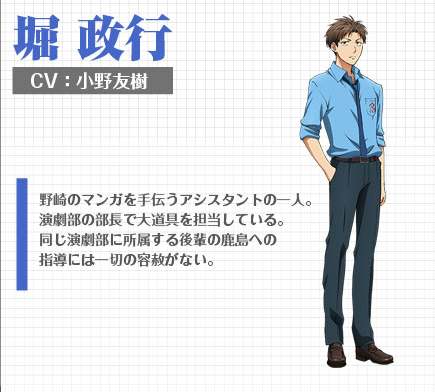 Mai Nakahara as Yū Kashima, a second year girl in the drama club. Because of her handsome appearance and gentlemanly manner, she's popular with the girls.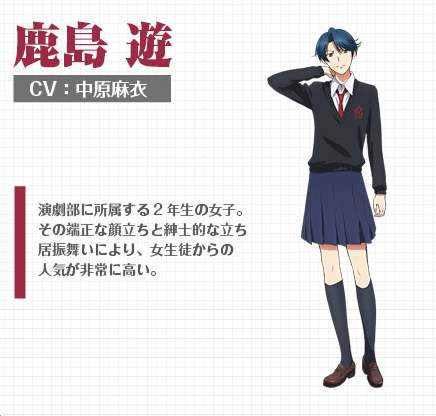 Miyuki Sawashiro as Yuzuki Seo, Chiyo's classmate who's in the singing club. She doesn't read the atmosphere around other people and is often irritated by them.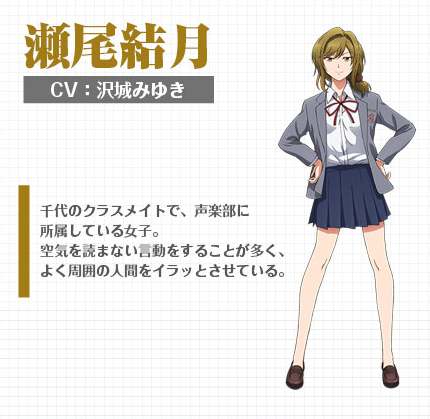 Ryohei Kimura as Hirotaka Wakamatsu, a first year in the basketball club. He looked up to Nozaki when Nozaki was on his middle-school basketball team. He has a delicate personality.


Mamoru Miyano as Suzuki
Marie Miyake as Mamiko
Kenta Miyake as Ken Miyamae, Daisuke Ono as Mitsuya Maeno, Ayako Kawasumi as Yukari Miyako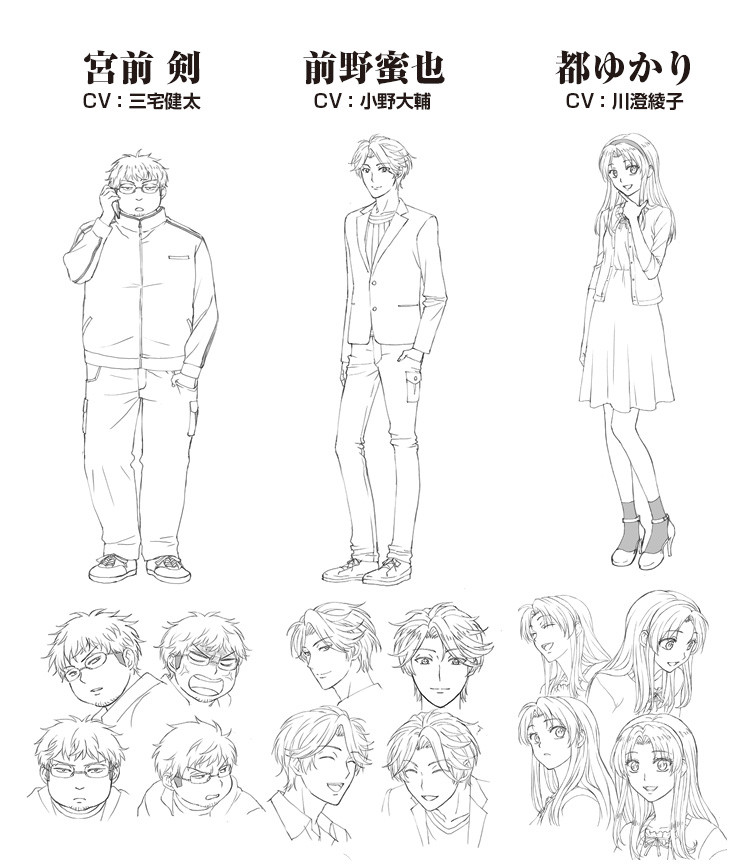 Mitsue Yamazaki (Hakkenden: Eight Dogs of the East) is directing the series, and Yoshiko Nakamura (Hiiro no Kakera - The Tamayori Princess Saga) is handling the scripts. Junichirō Taniguchi (Genshiken Second Season) is designing the characters. The series is being animated at studio Dogakobo.
---