News

Tales of Zestiria's Sorey's Fusions With 4 Party Members Unveiled

posted on by Kyle Cardine
Players can combine with fellow party members to use the powers of fire, wind, water and earth
---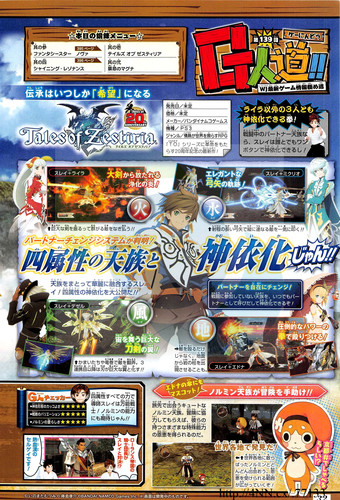 This year's 36th issue of Shueisha's Weekly Shonen Jump magazine is announcing more details on the "Kamui" system used in Tales of Zestiria on Monday. The "Kamui" battle feature will allow players to fuse with human and heavenly being characters.
In the game, Sorey will be able to fuse with Lailah (voiced by Miyu Matsuki), changing his form to wield a large sword with strong flames. Fusing with Dezel (voiced by Daisuke Ono) will allow Sorey to fly with blade wings and unleash tornadoes against enemies. Fusions with Edna (voiced by Misato Fukuen) unlocks large rock fists that can summon earth pillars to attack. Fusing with Mikleo (voiced by Ryota Ohsaka) will give Sorey a bow that can shoot water arrows from long distances.
The magazine also revealed the appearance of Normins within the game. When Sorey's party encounters a Normin in the world, completing their task will reward the party with various special abilities.
The game is classified as an "RPG where passion lights up the world," and the official tagline for the game is "Tradition will one day become 'hope.'"
Namco Bandai Studio's Daigo Okumura designed Alisha, while Kousuke Fujishima designed Sorey. Mutsumi Inomata is also returning to contribute character designs along with Minoru Iwamoto. The anime studio ufotable is once again contributing animation for cut scenes and the opening for the game under studio founder and producer Hikaru Kondo. Motoi Sakuraba and Go Shiina are composing the soundtrack, and Superfly is performing the game's theme song. An anime special inspired by the game is set to premiere before the game is released.
The full battle system, titled "Fusonic Chain-LMBS" (with LMBS standing for "Linear Motion Battle System), renews the franchise's real-time battle system, and adds a gauge that lets characters freely battle as long as there is stock in it. By using the gauge, effects such as healing and blowing away the enemy will be usable. The game will also include a new battle feature called "Kamui" that allows for a human and a heavenly being to fuse. In the game, Sorey will be able to fuse with Lyra, changing his form and allowing him to use Lyra's attributes to attack.
Namco Bandai Games will release the game on the PlayStation 3 worldwide.
---
this article has been modified since it was originally posted; see change history