×
remind me tomorrow
remind me next week
never remind me
Subscribe to the ANN Newsletter • Wake up every Sunday to a curated list of ANN's most interesting posts of the week.
read more
News

Sunrise Unveils Cross Ange Original TV Anime With 1st Promo

posted on by Sarah Nelkin
---
Animation studio Sunrise opened a website unveiling its new original TV anime project titled Cross Ange: Tenshi to Ryū no Rondo (Cross Ange: Rondo of Angels and Dragons) on Sunday. The anime will premiere in Japan in October on Tokyo MX, Mainichi Hoso, TV Aichi, and Nippon BS Broadcasting.


The website is streaming the anime's first promotional video:

Text: The story of the fortitude of an imperial princess who lost everything.
Text: I will live, breaking the world.
The website lists the anime's story:
Due to humanity obtaining the data technology that has evolved to a great amount- called "Mana"- the human race is able to subjugate all wars, starvation, pollution, and other problems on Earth by using its power, which is similar to magic. Earth has obtained the utopia of complete peace and no wants.

First princess of the Misurugi Empire, Angelize. As with everyone else, she also had no wants or worries. She was celebrated by the people of the empire, and was supposed to wear the crown. However, she realizes the shocking truth that she is a Norma. "Norma": An irregular existence that cannot use Mana, and are treated as heretics and as "things" rather than people. Having everything stolen from her, she isolates herself on a remote island.

What was waiting for her there was a fateful meeting with a group of Norma girls who know nothing but battle. The girls spend their days riding humanoid robot weapons called "Barameiru" hunting giant dragons that have come from another dimension to invade. Having her name taken from her, what will soldier Ange see at the end of the fight? What can she believe in? What will she obtain? The story of a single girl's fortitude starts now.
The cast will star: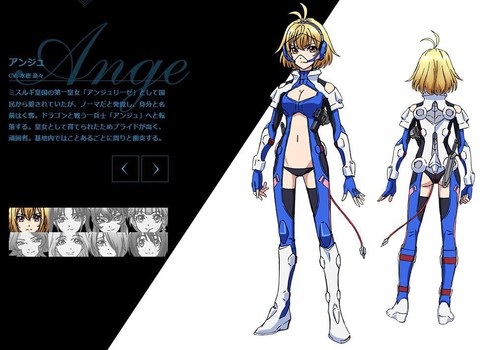 Nana Mizuki
as Ange. The first imperial princess of the Misurugi Empire, she was loved by her people as Princess Angelize. After realizing that she is a Norma, she becomes a soldier that fights with dragons and changes her name to Ange. As she was raised as a princess, she has a large amount of pride and is very stubborn. Within the base, she often gets into conflicts with others.


Eri Kitamura
as Salia, the leader of the first company of the Barameiru with a serious personality. Although she is a superior soldier, she only makes actions that are exactly to the materials she has learned, which sometimes causes problems whens she needs to react to varied situations. She has a secret hobby.


Yukari Tamura
as Hilda, an attacking soldier in the first Barameiru company and the favorite of captain Zora. She could even be ranked as the first or second strongest of the company. An ambitious and cynical person, she doesn't like the strong newcomer Ange, and considers her an enemy.


Houko Kuwashima
as Vivian, an attacking soldier in the first Barameiru company. She's the ace of her team during battle who uses fierce techiniques, but her true personality is very cheerful. After she puts out ridiculous quizzes to people, she one-sidedly recognizes them as a friend. Her hobbies are quizzes.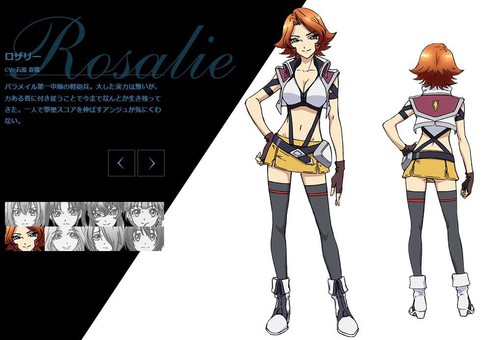 Kaori Ishihara
as Rosalie, a light arms soldier in the first Barameiru company. She actually has little skill, but she has survived up until now by sticking near those with power. She also dislikes Ange, who is quickly building up her battle record.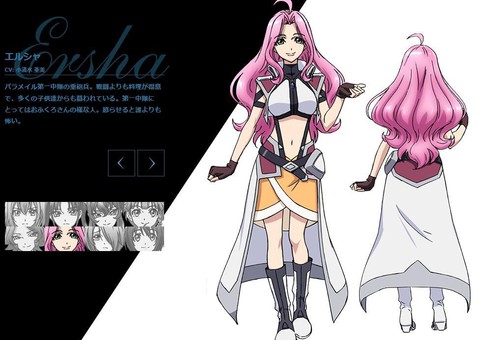 Ami Koshimizu
as Ersha, a heavy arms soldier in the first Barameiru company. She's better at cooking than fighting, and is liked by many children. She is somewhat of a motherly figure to the company. However, she is scarier than anyone when she is angry.


Yui Ogura
as Chris, a heavy arms soldier in the first Barameiru company. A negative girl who only opens up to those she knows. She is always living her life quietly hiding behind Hilda and Rosalie.

Sumire Uesaka
as Momoka, the head maid of imperial princess Angelize. She enjoys nothing more than taking care of her mistress.
Yoshiharu Ashino (Tweeny Witches) is directing the anime at Sunrise, and Tatsuto Higuchi is handling series composition. Yuusuke Matsuo is providing the concepts for the characters, while Sayaka Ono is designing the characters. Singer and songwriter Akiko Shikata (Ar Tonelico series, Tales of Symphonia the Animation: The United World Episode theme song performance) will be scoring the soundtrack. Nana Mizuki will perform the opening theme song, while Eri Kitamura will perform the ending theme.
The rest of the staff is as follows:

Creative Producer: Mitsuo Fukuda
Barameiru Design: Junichi Akutsu
Dragon Design: Kazutaka Miyatake
Costume Design: Heiin
Sunrise filed a trademark for "Cross Ange" last month.
[Via 0takomu]
---