News

Mikako Komatsu, Hiroyuki Yoshino Join Gangsta. Anime's Cast

posted on by Crystalyn Hodgkins
---
The October issue of Shinchosha's Monthly Comic @Bunch magazine revealed additional cast members for the anime adaptation of Kohske's Gangsta. manga on Thursday. The additional cast is as follows: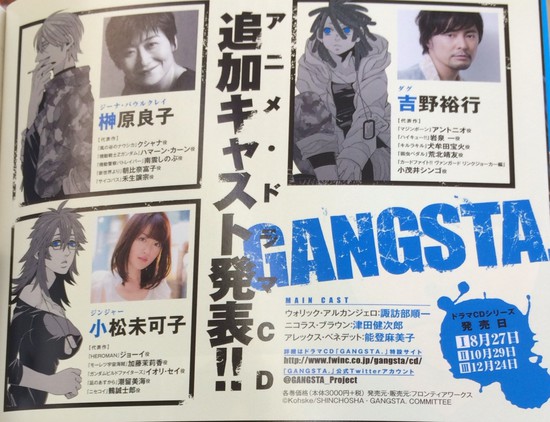 The three voice actors will also play the same parts in the upcoming three-part drama CD series. Both the anime and drama CD project will star Junichi Suwabe as Worick Arcangelo, Kenjiro Tsuda as Nicolas Brown, and Mamiko Noto as Alex Benedetto.
The drama CD project also lists the following cast members, although the cast members have not been confirmed as also being in the anime:
The three discs in the drama CD project will ship on August 27, October 29, and December 24. Each disc will retail for 3,000 yen (about US$29).
The manga revolves around Nick and Worick, two men who take on jobs from both the mafia and the police in the town of Ergastulum, a rotten town filled with mafia, hoodlums, prostitutes, and dirty cops.
Kohske launched the original manga in Shinchosha's Monthly Comic @Bunch magazine in 2010, and Shinchosha published the sixth compiled volume on July 9. Viz has licensed the series for North American release, and the company shipped the third compiled volume in English on August 19.
---