News

Rurouni Kenshin: The Legend Ends Film's Main Trailer Unveiled

posted on

2014-08-22

02:46 EDT by Sarah Nelkin
Kenshin endures bloody battles in order to save Japan in September 13 film
---
The official website for Rurouni Kenshin: The Legend Ends (Rurouni Kenshin: Densetsu no Saigo-hen), the second of two sequels to the live-action Rurouni Kenshin film, began streaming the main trailer for the film on Friday. The video features One OK Rock's new theme song, although the title of the song has not yet been announced.
Kenshin: There is an opponent that I must defeat. The man Makoto Shishio who became the hitokiri after me is threatening the country.
Shishio: It's time to start taking back the country!
Kenshin: If he takes control of the country, so many people will suffer.
Text: For the sake of the future
Man: Place the fate of Japan on your swords!!
Text: That was entrusted to a single man.
Shishio: That guy is still alive. If you hold your life dear, find him, and behead him before the people.
Kaoru: Stop it!!
Shishio: It's time to end this.
Aoshi: I've thrown away everything in order to defeat you.
Megumi: If you can at least stay alive, I'll definitely heal you.
Sojiro: God, you piss me off...
Seijuro: Your life is that of a single human.
Shishio: Let me enjoy this more!!
Narrator: Rurouni Kenshin: The Legend Ends.
Rurouni Kenshin: Kyoto Inferno (Rurouni Kenshin: Kyoto Taika-hen), the first of two live-action Rurouni Kenshin sequel films, opened nationwide in Japan earlier this month. In three days, it sold 645,086 tickets for 822,734,430 yen (about US$8 million). In the process, it garnered the biggest opening of any Japanese live-action film this year.
Rurouni Kenshin: The Legend Ends will open in Japan on September 13.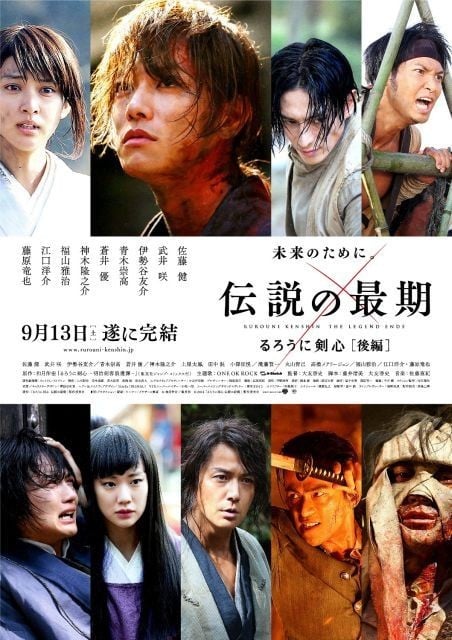 [Via Comic Natalie]
---