News

A Letter To Momo U.S. Theatrical Schedule Announced

posted on

2014-08-24

01:00 EDT by Rachel Mahoney
Award-winning film to play in select theaters from August to December
---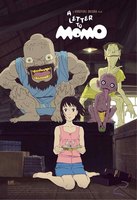 A Production I.G. USA representative announced on Monday the U.S. premiere dates for Hiroyuki Okiura's film A Letter To Momo in select theaters.
The film premiered in Japan in April 2012, screened in Hollywood for one week in November 2013, and opened in New York City's IFC Center on July 23.
The film will screen in the following theaters:
The Wooly - Gainesville, FL (opens Aug 21)
Landmark TBD - Denver, CO (Aug 22)
Gene Siskel Film Center - Chicago, IL (Aug 29)
Landmark Nuart Theatre - Los Angeles, CA (Aug 29)
Landmark E Street - Washington, DC (Aug 29)
Landmark Kendall Square - Boston, MA (Aug 29)
Landmark Edina - Minneapolis, MN (Aug 29)
Landmark Midtown Art - Atlanta, GA (Aug 29)
Landmark Varsity - Seattle, WA (Sept 5)
Landmark TBD - San Francisco, CA (Sept 5)
Landmark Shattuck Cinemas - Berkeley, CA (Sept 5)
Landmark TBD - San Diego, CA (Sept 5)
Landmark Ritz at the Bourse - Philadelphia, PA (Sept 5)
Cedar Lee Theatre - Cleveland, OH (Sept 14)
Jean Cocteau Cinema - Santa Fe, NM (Sept 19)
Guild Cinema - Albuquerque, NM (Sept 19)
Salt Lake City Library Theater - Salt Lake City, UT( Dec 6)
The film won the 20th Annual Tokyo Kinder Film Festival's Best Picture award and the International Special Jury Prize on August 19,won the Chicago International Children's Film Festival's Second Children Jury's Prize in the Animated Feature Film category in the fall of 2013, and won the New York Children's Film Festival's Grand Prize in March 2012.
GKids describes the story:
The last time Momo saw her father they had a fight – and now all she has left to remember him by is an incomplete letter, a blank piece of paper penned with the words "Dear Momo" but nothing more. Moving with her mother to the remote Japanese island of Shio, Momo soon discovers three yokai living in her attic, a trio of mischievous spirit creatures that only she can see and who create mayhem in the tiny seaside community as she tries desperately to keep them hidden. But these funny monsters have a serious side and may hold the key to helping Momo discover what her father had been trying to tell her.
A Letter To Momo is slated for release on DVD and Blu-ray in North America on October 21 through New Video Group.
[Via MakiTerashima]
Thanks to Daniel Zelter for the news tip
---