×
remind me tomorrow
remind me next week
never remind me
Subscribe to the ANN Newsletter • Wake up every Sunday to a curated list of ANN's most interesting posts of the week.
read more
News

Sega Hardware Girls' Hi sCoool! SeHa Girl Anime Previewed in Video

posted on by Sarah Nelkin
11 voice actresses perform ending themes for October 8 TV anime
---
TMS Entertainment began streaming a preview video for its Hi sCoool! SeHa Girl anime on Wednesday. The video features the anime's ending theme, "Blooming!" by voice actresses M.A.O, Minami Takahashi, Shiori Izawa, Manami Tanaka, Yūko Takayama, and Sumire Uesaka.
Saturn: What's up with this place? Is this really a school!?
Dreamcast: I'm Dreamcast!
Saturn: I'm Sega Saturn!
Mega Drive: I'm Mega Drive.
Text: Sega's hardware beautifully transforms!?
Dreamcast: Dreamcast, Sega Saturn, and Mega Drive transfer into Sega Hard Academy in Tokyo's Haneda Ōtorii station, and take classes inside of games. Hi sCoool! SeHa Girl! Everyone, watch OK?

Amazon's listing for the ending theme song CD for the anime lists that the anime will feature two ending themes, with voice actresses M.A.O (Dreamcast), Minami Takahashi (Sega Saturn), Shiori Izawa (Mega Drive), Manami Tanaka (Sega Mark III), Yūko Takayama (Master System), and Sumire Uesaka (Visual Memory) performing the song "Blooming!!," and actresses Mai Aizawa (SC-3000), Yū Serizawa (SG-1000), Naomi Ōzora (SG-1000 II), the newly-cast Minami Tanaka (Game Gear), and Haruna Momono (Robo Pitcher) performing "Wakai Chikara -SEGA HARD GIRLS MIX-" (Young Power -SEGA HARD GIRLS MIX-). The CD will ship in Japan on October 22 for the price of 1,296 yen (about US$12.50).
The story of the anime will revolve around Dreamcast, Sega Saturn, and Mega Drive, who have just enrolled in SeHaGaga Academy at Tokyo's Haneda Ōtorii station. They are given an assignment needed to graduate by a suspicious teacher, and to clear this assignment, the girls need to enter the world of Sega Games. The girls must try their best to graduate without incident.
The three cast members listed on the official website are:
Dreamcast (voiced by M.A.O)

Sega Saturn (Minami Takahashi)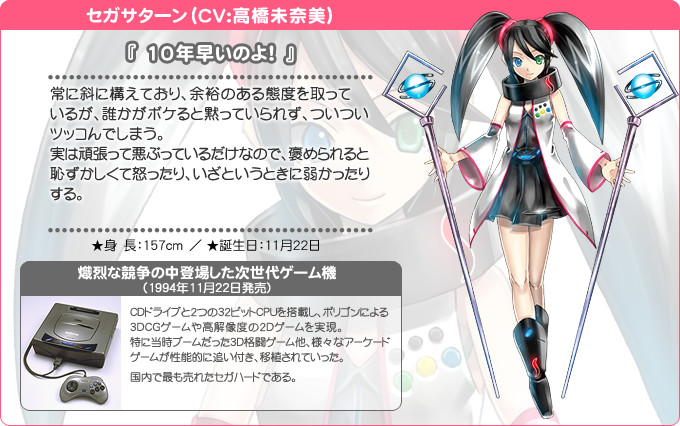 Mega Drive (Shiori Izawa)


Hatsune Miku designer KEI created the original girl designs that inspired this anime. The series is being animated in CG at TMS Entertainment and Jinnis, with Sōta Sugahara (gdgd Fairies character design, animation director) directing the project off scripts written by himself and Masayuki Kibe. The production uses the MikuMikuDance software that has also been used for Minarai Diva, Tesagure! Bukatsu-mono, and KEI's Straight Title Robot Anime. Sōta Sugahara and Kio designed the CG characters, and Shigeyuki Watanabe serves as CG director.
The anime will premiere on television on October 8.
---