News

Space Dandy in the UK

posted on by Andrew Osmond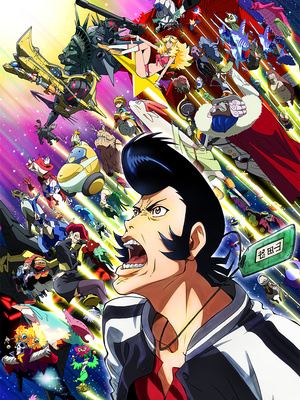 On its All the Anime site, Anime Limited has made a series of announcements about Space Dandy in the U.K.
- Both the Blu-ray and DVD editions of Space Dandy will contain a 200-page artbook, the first 13 episodes of the series and Collector's edition rigid packaging.
- As announced previously, the series director Shingo Natsume will be the Guest of Honour at MCM Scotland Comic Con at the SECC in Glasgow on September 6 and 7.Natsume will be interviewed on a panel on the Saturday, provisionally at 3.30 p.m. The signing sessions will be from 12 noon to 1.30 p.m. on Saturday and 12 noon to 1 p.m. on Sunday at the Anime Limited Stand.
There will also be 20 copies of the Space Dandy 8-track vinyl soundtrack, selling for £18 each, available a first-come-first-served basis.
- There will be a special guest at MCM London Comic Con on October 24 to 26. The guest is described as 'a familiar face back for a second time.' There will be a Space Dandy panel and signing sessions. Anime Limited aims to have Space Dandy Season 1 available at the event. (The site adds, 'Pre-ordered it on Amazon? Don't cancel your order in a rush as we'll have special gifts for you too.')
- There will be an unspecified event, 'not guest-based,' at the Anime Day at the Leeds Film Festival on November 9.
- There will also be an unspecified event at the final Auchinawa convention from November 14 to 16.
Space Dandy is directed by Shinichiro Watanabe (Macross Plus, Cowboy Bebop, Samurai Champloo, Kids on the Slope). The title character is Dandy, an alien-hunter. His job is to seek out new aliens never seen before, and receives a reward whenever he finds a new species. His mission is to find those new species faster than anyone else as he travels the galaxy. Together with the bucket-of-bolts robot QT and the dimwit alien Meow he picked up along the way, he comes into contact with new planets and their inhabitants.
---