News

Live-Action Patlabor's Part 4 Special Video Previews Bomb Story

posted on by Lynzee Loveridge
Shigeru Chiba
's character cracks down on a distracted maintenance crew
---
Cinema Today began streaming a special video for the fourth part of Mamoru Oshii's live-action The Next Generation -Patlabor- project on Friday. The video offers a brief intro to the story of the second half, "Time Dokan" (Time Kaboom), for people who have not yet seen it.
The story starts when Section 2 Division 2 gets a call about bombs placed across the city. The team sets out to find where the bombs are placed and who is behind the destruction. However, they find something unexpected. Maintenance crew chief Shigeo Shiba (Shigeru Chiba) then cracks down on his slacking crew members.
The fourth part premiered in theaters in Japan on August 30 and includes episode 6 "Daikaijū Arawaru Kōhen" (A Giant Monster Appears Part II) and episode 7 "Time Dokan" (a wordplay on the Time Bokan anime franchise).
Episode six is the second half of a story about a mysterious giant sea creature. The story starts when a surfer suddenly disappears at sea. At the same time, a large sea monster appears. At the beach, marine biologist Nobuko Nanami is researching the incident, but the Section 2 Division 2 team just happened to be vacationing at the same seaside. They are caught in the investigation when the visiting tourists are excited to see a large robot like Labor fight a sea monster. Ghibli co-founder and former producer Toshio Suzuki will make an appearance.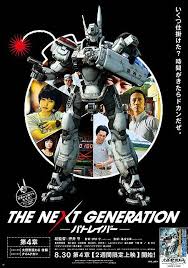 The live-action The Next Generation Patlabor project is not a remake of the earlier Patlabor anime stories, but a completely new work. The story is set in Tokyo in 2013, and it represents the "third generation" of Patlabor. The Tokyo Metropolitan Police has disbanded its Section 2 Division 1 of police robots, and Section 2 Division 2 barely survived the budget cuts due to the long recession.
The project begins with this seven-part series, which is composed of the "episode 0" and 12 full episodes helmed by chief director Mamoru Oshii and other directors. Each full episode is projected to be about 48 minutes long. Finally, Oshii is directing and writing a feature-length film that will open during Japan's Golden Week holidays in spring 2015, and it is expected to run about 100 minutes long.
Oshii commented that the seven-part series will have a "slapstick" ambiance, while the feature film will be serious. Oshii and Kei Yamamura are writing the scripts for the series, and Kenji Kawai is returning to the franchise to compose the music for both the series and the feature film.
Former Hello! Project singer and actress Erina Mano stars as pilot Akira Izumino (as opposed to the earlier anime's heroine Noa Izumi). The cast also includes Seiji Fukushi as Yūma Shiobara, Rina Oota as Ekaterina Krachevna Kankaeva ("Kasha") from Russia, Shigeru Chiba reprising his anime role as maintenance crew chief Shigeo Shiba, and Toshio Kakei as Captain Keiji Gotōda (the successor to the anime's Captain Kiichi Gotō).
---